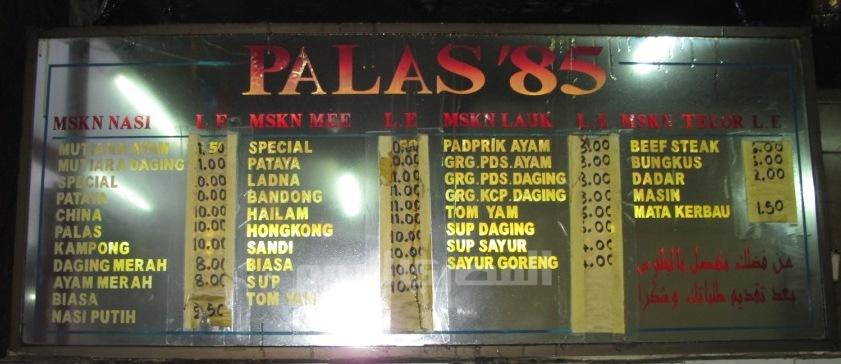 Who says that repetition must be bad? Andy Warhol painted Marilyn Monroe endlessly, innovating constantly around the theme. It never got stale. My Marilyn Monroe — the inspiration to which I continuously return — is the indigenous food traditions of the international student communities studying at Al-Azhar. Unique cultural islands can be found all around the area, drawn from the farthest reaches of the Sunni universe. Each has its own cultural and culinary traditions. Having discovered the glorious tastes available in this eclectic and well-hidden sliver of Cairo, I keep coming back for more.
I first became aware of the tastes cooked up by these Al-Azhar student communities when reviewing the Uighur noodle place off of Ahmed Saeed Street near Islamic Cairo. I then continued on this theme by profiling a variety of Thai, Sudanese and Eritrean spots. All are simple, cater almost exclusively to their home communities and are absurdly affordable. And all have dynamic and authentic tastes.
My most recent excursion into this culinary tradition was to Palas '85, a Malaysian restaurant with a Thai twist in Nasr City, just up the road from the Autostrad branch of Al-Azhar. The night I went with my companions, nearly everything conspired against this unassuming little restaurant. The normal chef was out, so the standard Malaysian fare came out a bit Thai-inflected. The noodle supply had run dry, so we had to make do with exclusively rice-based dishes. And we came by a bit early, as most of the locals were returning from class, so we missed out on the community canteen feel.
In spite of this, the tastes were compelling. As is often, we traveled in a pack, and so were able to overcome our unfamiliarity with the local tastes by simply ordering one of everything on the menu. We started with a tom yom soup, appropriately spicy and infused with lemongrass. We then continued on with a range of Malaysian tastes, characterized by hot sauces and flamboyant curries. The aya meers was an aromatic combination of chicken, vegetables, and yellow or white rice. The fried rice was zesty, served with peppers. Our favorite was the bataya, an otherwise ordinary rice dish made glorious by being wrapped up in an egg.
We had heard rumors that the noodles here were fabulous, and the collective sigh that came off of our table on discovering we'd only have rice was audible. But the chef — as usual for a local joint, operating out of a simple kitchen assisted by only a few campfire flames — did wonderful things with the limited ingredients available, making otherwise ordinary rice tangy, salty and sweet.
As we ate, a couple drove up, rolled back their seats, and enjoyed a bataya as their child frolicked in the back seat. It reminded me of an old-school American diner where food is brought to your car window by roller-skating waitresses.
At Palas '85 (named for its street address, not the year it opened), plastic chairs and tables are the norm, and the decor is outdated. But the tastes are surprising and authentic. If you've soured on Cairo's normal range of over-priced, over-hyped Asian food, a jaunt down to Nasr City, among nondescript apartment blocks, next door to a gritty car mechanic, could be just the thing to jolt your taste buds.
Address: 85 Abdel Hakim al-Gamel St., near the Rabaaa al-Adeweya Mosque, behind the Mansour Chevrolet, off of Iran Street from the Autostrad, Nasr City. Hours: 12pm–11 pm daily. Price: Around LE20 per person. Tel.: 012-2319-8828.