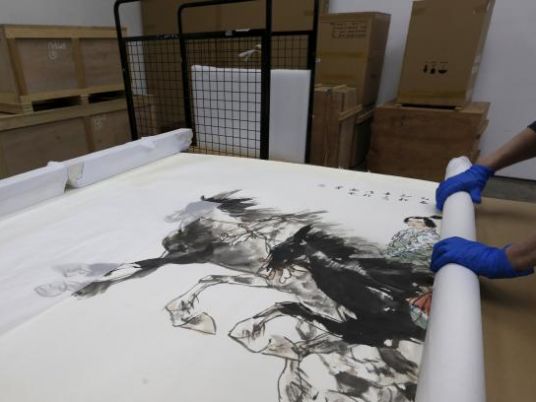 As China's economy wheezes to a 25-year low, investors who once collected stocks and property are turning to what they are willing to believe will become a new safe haven market — a trading platform for fine art.
Even as the global fever among connoisseurs cools for Chinese art, Hong Kong-based Takung Art Co said its revenue and profit jumped along with rampant growth in valuations for a portfolio of paintings, jewelry and precious gems. Via Takungs's platform, investor-enthusiasts can partly own, buy and sell Chinese art pieces over a 10-year period.
Earlier this week, the small US-listed firm said thousands of customers like Shenzhen-based finance professional Zhou are boosting trading of units in artwork listed on its platform. Takung said the notional value of its portfolio of contemporary pieces has surged over 700 percent to US$179 million since it launched the platform at the end of 2013.
"We all want an easy, safe place to earn money," said Zhou, 37, who declined to give his full name. Formerly a stock investor, Zhou said he researches art trends personally and currently has around 400,000 yuan ($61,360) tied up in Takung's platform: "Here I know my assets are safe, and for a long time."
Online art marketplaces have proliferated as the Internet has grown, with sites from Beijing's Hihey.com to New York-based Artspace offering art lovers an alternative to traditional auction houses. Giants of e-commerce are also in on the act — Amazon.com Inc operates Amazon Art, featuring $200,000 oil paintings.
But traditional art auction houses such as Sotheby's and Christie's International have seen overall sales slow of late amid global economic uncertainty. By 2014 the global auction market for Chinese art and antiques had slid to $7.9 billion, nearly a third below its 2011 peak, according to a joint survey by online auction platform Artnet and the Chinese Association of Auctioneers.
Philip Hoffman, chief executive of the Fine Art Fund Group in London, said he would be very surprised if Takung's model was translated outside China as the mode of investing was risky.
"A lot of these people [using the online platform] simply have the financial approach with no art understanding whatsoever," said Hoffman, whose fund manages $350-500 million in art assets.
Art for HK$1 per unit
Takung's model is a first for Hong Kong. The brainchild of 40-year-old Chairman and Chief Executive Di Xiao, Takung neither buys nor sells art on its own account, but charges a percentage fee for owners to list works that will be traded on the platform for a guaranteed 10 years, as well as trading commissions.
The art's price tag is then broken down into a large number of small 'units' – for example, a painting valued at HK$1.2 million may be divided into 1.2 million units at HK$1 apiece. Platform users then trade units, the price changing according to demand — and so far, every work on the platform has appreciated in their notional on-screen value, often by huge multiples.
This week Takung reported revenue more than doubled to $11.3 million and net profit nearly quadrupled to $5.4 million. "We believe that our sharp increases in revenue and profitability validate the soundness of our shared fine art ownership model," Di Xiao said in a statement.
After trading on the platform for 10 years, Takung said works will be sold "in any way available at the time, including auction house, galleries and/or a 1-to-1 transaction platform that we are developing".
The first such sale is due in December 2023, with proceeds to be distributed among the shared ownership. Asked what might happen if the art fetched less than its on-platform valuation, Takung said, "As a product approaches the end of the 10-year period, the on-platform valuation will converge to the expected valuation of selling the piece as a whole."
($1 = 6.5188 Chinese yuan renminbi)