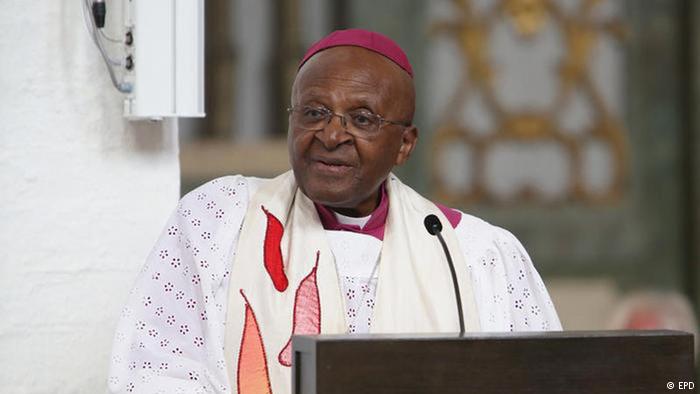 In the wake of allegations of sexual abuse, Oxfam has lost another of its ambassadors as Desmond Tutu spoke of immorality and criminality. Further revelations have come to light.
The 86-year-old Desmond Tutu issued a statement on Thursday saying he was "deeply disappointed" by the revelations of sexual assault and misconduct within Oxfam.
The retired church leader who played a significant role in the anti-apartheid movement said he had decided to resign in light of the allegations against the international charity.
"The Archbishop is deeply disappointed by allegations of immorality and possible criminality involving humanitarian workers linked to the charity," the statement from his office in South Africa read.
"Archbishop emeritus Desmond Tutu has supported Oxfam International's good work for many years," his office stated. "He is also saddened by the impact of the allegations on the many thousands of good people who have supported Oxfam's righteous work."
Tutu's retirement follows the resignations of Hollywood actress Minnie Driver and Senegalese musician Baaba Maal as celebrity ambassadors for Oxfam.
Sacked Oxfam staff member rehired
The news from Tutu's office came as Oxfam admitted a "serious error" in rehiring a staff member who had been sacked in 2011 over a string of claims, including the engagement of prostitutes during the delivery of aid to Haiti.
"One of those dismissed by Oxfam as a result of the sexual misconduct case in Haiti" had been "subsequently hired by Oxfam as a consultant in Ethiopia," Oxfam said in a statement on Thursday.
Having hired the individual "even in an emergency as a short-term consultant" constituted a "serious error and should never have happened," Oxfam continued.
"We are still checking how this occurred but it further highlights that we need an organization and sector-wide approach to the vetting and recruitment of both staff and consultants, especially in emergencies where there is pressure to fill posts quickly in order to help save lives."
The man at the center of the Haiti allegations issued a four-page letter on Thursday denying some of the accusations against him. Former Haiti Oxfam director, 68-year-old Roland van Hauwermeiren told Belgian newspaper Het Nieuwsblad: "Everything appears exaggerated and that hurts, especially because my family does not want to see me any more."