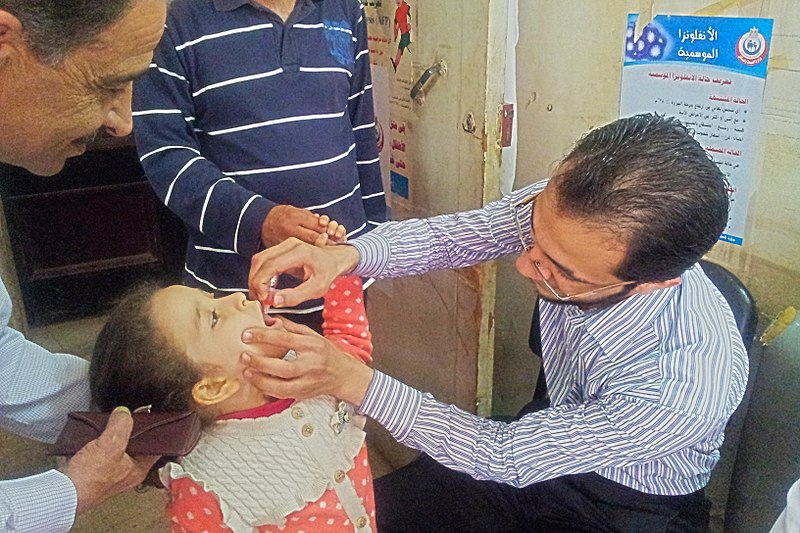 Egypt's national campaign to eradicate polio targeting Egyptians and non-Egyptians alike has succeeded in vaccinating 16,694,238 children aged between one day and five years old against the disease, Health Minister Hala Zayed said.
The campaign, held between February 16-19 nationwide, is a part of Egyptian President Abdel Fattah al-Sisi's plan to boost healthcare as part of Egypt's wider sustainable development goals.
Health Ministry spokesperson Khaled Megahed clarified that the results have exceeded the campaign's target of 16.5 million children.
The campaign has also helped 21,213 non-Egyptian children get access to the polio vaccine, as part of efforts to provide medical services to foreigners in Egypt in accordance with the directives from President Sisi, according to Head of the Health Ministry's Preventative Department Alaa Eid.
He explained that the campaign had positioned so-called "vaccination squads" – around 90,000 people – beside mosques, churches, clubs, markets, train and metro stations, parking lots, and public parks, as well as in rural and urban heath centers and maternity and child care facilities.
The campaign provided 3,300 cars to transfer the "squads" to the aforementioned locations during the four-day vaccination campaign, according to Eid.
The last polio case in Egypt was recorded in 2004, Eid said, with the World Health Organization having declared Egypt polio free in 2006.
Polio is a highly contagious disease caused by the poliovirus and usually affects children from one to five years of age. Initial symptoms of polio include fever, fatigue, headache, vomiting, stiffness of the neck, and pain in the limbs.
The disease in its most severe form can cause nerve injury leading to paralysis. According to the World Health Organization, about 1 in every 200 cases of the disease results in irreversible paralysis.
Worldwide campaigns to eradicate the illness have seen the number of polio cases worldwide fall from an estimated 350,000 in 1988 to 407 in 2013. However, polio remains endemic in Pakistan, Nigeria, and Afghanistan, according to the WHO.
Edited translation from Al-Masry Al-Youm
Image During a polio eradication campaign in Egypt, an FETP resident supervises the vaccination of children at a health office in Gharbia, in April 2014.