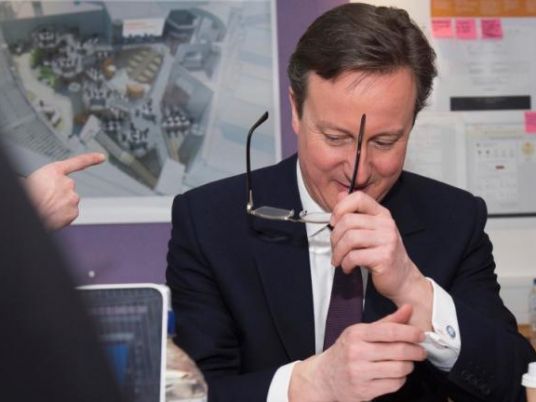 Over 100 British company bosses publicly backed Prime Minister David Cameron's Conservative-led government on Wednesday and warned a change of course for Britain's US$2.8 trillion (1.9 trillion pounds)
economy
under a Labour government would put the recovery at risk.
Opinion polls ahead of the 7 May election indicate neither Cameron's Conservatives nor the opposition Labour Party will win an overall majority in the 650-seat parliament as millions of voters turn to once marginal parties.
"We believe this Conservative-led Government has been good for business and has pursued policies which have supported investment and job creation," the business leaders said in an open letter published in the Telegraph newspaper.
"We believe a change in course will threaten jobs and deter investment. This would send a negative message about Britain and put the recovery at risk," they warned.
Among the 103 signatories were the boss of Arcadia retail group Philip Green, BP's (
BP.L
) CEO Bob Dudley, entrepreneur Luke Johnson and the outgoing boss of insurer Prudential Tidjane Thiam, who is due to become the CEO of Credit Suisse (
CSGN.VX
).
The closest British election in at least a generation has flummoxed seasoned politicians and City of London financiers who are poring over opinion polls and Westminster seat predictions to see who might rule Britain.
Labour, whose relationship with business is fraught with tensions over policies which promise tighter regulation for big businesses, dismissed the letter as "nothing new".
"No one will be surprised that some business people are calling for low taxes for big businesses," said Labour's business spokesman Chuka Umunna.
"We don't believe, as David Cameron does, in more tax cuts for the richest in society – the priority is tax cuts for small firms, working people and saving our NHS."
In total the company bosses who signed the letter employ more than half a million people.
The CEO of Costa owner Whitbread Andy Harrison, chairman of engineer Meggitt Nigel Rudd, the chairman of Dixons Carphone Charles Dunstone and the CEO of oil firm Tullow Aidan Heavey were amongst the
FTSE
100 leaders who signed the letter.