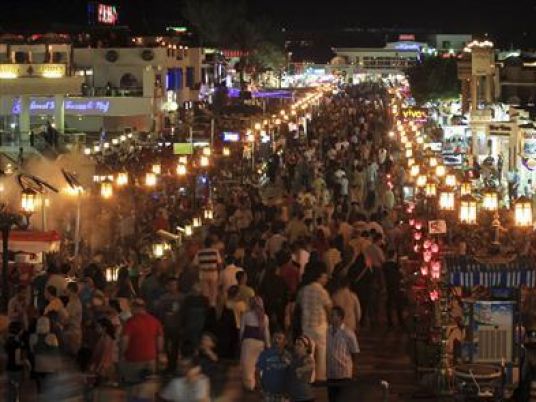 The British Telegraph newspaper said that tempers are high in the UK over the suspension of flights to Sharm el-Sheikh, with accusations by politicians that British Prime Minister Theresa May was behind the decision, which they described as "unjustified."
Egyptian authorities had made considerable efforts to secure Sharm el-Sheikh Airport, head of the British Parliamentary Task Force Stephen Timms said, responsible for strengthening Egypt-UK ties.
There was no justification or explanation for the continued restrictions on British flights to Sharm el-Sheikh, he added, calling on the British government to lift constraints.
Timms added in a statement to the Telegraph on Friday that Britain's decision following the crash of the Russian plane was justified at the time, but the Egyptian authorities have made great strides in securing Sharm el-Sheikh resorts since then.
He added that other countries had resumed their trips to the resort, and that it was time for the UK to lift the ban on flights as well.
The ban forbids British tourists from visiting beaches on the southern tip of the Sinai Peninsula, Timms said, adding that despite the British Foreign Office's warning against traveling to other southern Sinai areas, Sharm el-Sheikh is seen as a safe tourist destination, but so far no direct flights have been resumed from the UK to the city.
"The Department for Transport (DfT), taking the lead on the decision, was said to have been assured last year by Sir Gerald Howarth, the former head of the parliamentary group, that all its conditions had been met, but there has been no movement on its position," he said.
Timms said he believed that the ban imposed so far on flights to Sharm el-Sheikh has continued by order of Prime Minister Theresa May. The British Foreign Office lifted a ban last week on flights to Tunisia, that had been imposed after the terrorist attack in Sousse in 2015.
"It is a bit baffling, given how difficult it is to secure Tunisia compared to Sharm el-Sheikh," the Telegraph quoted Dirk Paterson, a spokesman for Latif Hotel Group, which has four hotels in Sharm el-Sheikh.
According to the paper, Egypt has spent more than £20 million on strengthening security at airports since the Russian plane incident.
A Russian passenger plane crashed on October 31 2015 in a mountainous part of Egypt's Sinai Peninsula, killing all on board.
The plane carrying 214 Russians and three Ukranian passengers, as well as seven crew members, had taken off from the Red Sea resort of Sharm el-Sheikh in South Sinai bound for Saint Petersburg.
Russia, along with many European countries including the UK, suspended flights to Egypt following the incident, causing damage to the Egyptian tourism sector.