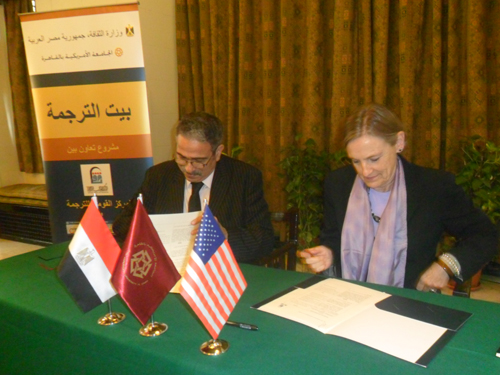 A cooperation protocol was signed on Monday between the Culture Ministry and the American University in Cairo (AUC) to launch the House of Translation, an ambitious partnership between the ministry's National Center for Translation (NCT) and AUC's Center for Translation Studies. The project will offer workshops and lectures in the field of translation to aspiring translators.
"This is a very important day for us, as translation is a fundamental part of our job at the Ministry of Culture," said Culture Minister Emad Abu Ghazi. "[Translation] helps us recognize the different cultures of the world."
Established in 2007 under the custodianship of literary critic Gabir Asfour – who was also appointed culture minister in the cabinet reshuffle during the early days of 25 January revolution – the NCT has since translated thousands of books on various themes.
While the NCT has previously cooperated with organizations working in the field of translation, the House of Translation represents its first partnership with an educational institution, said the center's director, Faisal Younis, adding that the project mirrors the center's goals, and the two institutions can complement one another.
"We [the NCT] suffer from a lack of experience in recruiting international specialists in the field of translation, as well as organizing workshops and seminars. The American University in Cairo has those skills. On the other hand, we can easily identify young, serious translators who need to develop their skills," said Younis.
Across the Arab world, professional translators are few, said Younis, explaining why the project is so important.
The House of Translation is an ambitious project inspired by several historical translation efforts in Egypt, said Samia Mehrez, the project supervisor and head of AUC's Center for Translation Studies. Such projects include the translation efforts of leading Egyptian intellectuals such as Gamal Eddin al-Afghany at the turn of the 20th century, and the "One Thousand Books" project launched by Taha Hussein in the 1950s.
"It is fitting for Egypt to globalize its revolutionary experience now and lead the movements of the world demanding political and economic changes," she added.