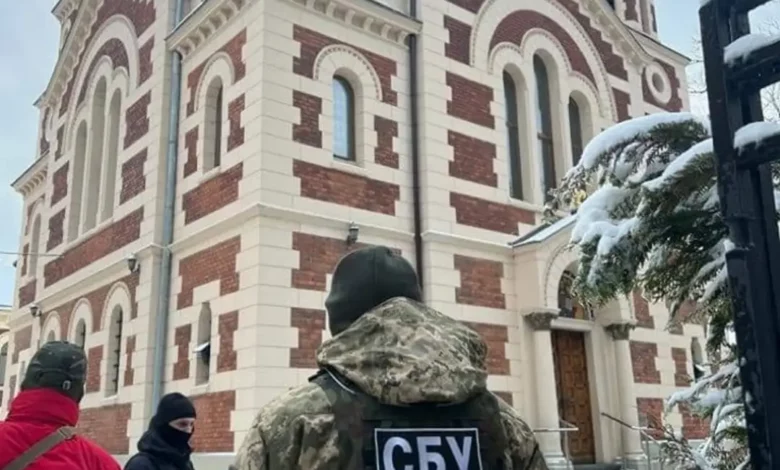 The Security Service of Ukraine (SBU) said Wednesday it had carried out searches of premises belonging to a branch of the Ukrainian Orthodox Church in nine regions — finding Russian passports, propagandist literature and "passes of the occupiers."
Part of the church in Ukraine — which split earlier this year — remains loyal to the Moscow Patriarchate (MP).
"The Security Service completed counter-intelligence (security) measures at UOC (MP) facilities in Zakarpattia, Chernivtsi, Rivne, Volyn, Mykolaiv, Sumy, Lviv, Zhytomyr and Kherson regions," the SBU said.
It said it found Russian passports, St. George's ribbons — which are popular among pro-Russian separatists — symbols of the banned pro-Russian party "Opposition Platform For Life" and "manuals for spreading enemy propaganda through the faithful" on the territory of the dioceses.
In addition, intelligence officers found books by Ivan Ilyin, who is often called "Putin's philosopher," it said.
In the village of Chornobaivka in Kherson region, the SBU said it had discovered passes of the pro-Russian occupiers during the inspection of the church premises.
It said photographs of Russian documents "on ensuring cooperation with the military commissariats of the Russian Federation" were found in the diocese of the Lviv region.
The SBU also said it had found a monk with a Russian passport and contacts in the Russian Federation on the territory of one of the monasteries of the Rivne region in western Ukraine.
"His possible involvement in intelligence and subversive activities for the benefit of the Russian special services is currently being investigated," it said.
The Lviv diocese said in a statement on Facebook that the SBU had inspected premises and that "no anti-Ukrainian items and literature were found."
The SBU has stepped up a campaign of raids against parts of the Ukrainian Orthodox Church in recent weeks.