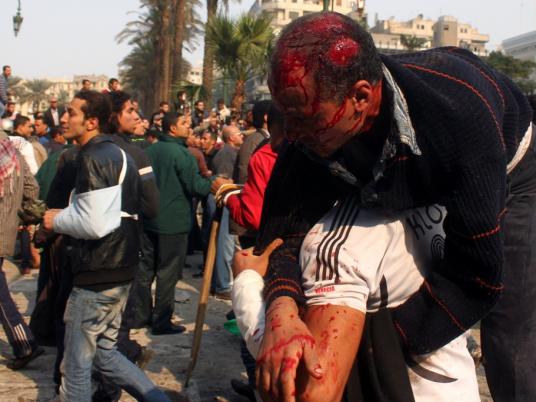 Thirty-one political movements held a press conference on Tuesday challenging the Supreme Council of Armed Forces' (SCAF) narrative of recent clashes between protesters and soldiers. The latest round of fighting has killed at least 12 and injured scores since Friday when it first began.
Lawyers and activists presented evidence of brutality and torture of detainees, some of whom are minors, arrested during the clashes.
Protester Mohamed Mohy Hussein died in custody after he was detained along with 157 others. He sustained fatal injuries from torture at the hands of military forces, said Malek Adly, a human rights lawyer at the Hisham Mubarak Law Center.
According to Adly, who attended the interrogation that took place on 17 December in South Cairo Prosecution, 45 of the 156 detained are minors whose ages range from 11 to 15 years old.
Human rights lawyers said that police forces have been arresting street children from metro stations and claiming that they were paid to infiltrate the ranks of protesters and cause trouble.
"The detainees were in dire conditions, as they were seriously injured and burned due to torture and electric shocks, and it was impossible to interrogate them in these conditions.
"After hours of begging the prosecutors and the general lawyer to transfer those who are fatally injured to the hospital, they only agreed that doctors attend and treat them at the prosecution office," said Adly.
Doctors who examined the prisoners confirmed that some had to be transferred to the hospital due to the severity of their injuries. However, prosecutors and police continued to question whether to release them for medical treatment, finally allowing 29 seriously injured people to be transfered to hospital by police truck, he said.
According to Adly, during the interrogation, some of the detainees said that soldiers dragged them from Tahrir Square to the parliament building, put their boots on their faces, gave them electric shocks and asked them to say that they loved SCAF head Field Marshal Mohamed Hussein Tantawi. When the protesters refused, military forces forced them to eat grass in the cabinet's garden.
The prosecution released 21 of the minors, and extended the detention of 123 for another four days, while it ordered an extra 12 days of detention for 12 suspects.
Amr Salah, a doctor who volunteers at the field hospital at the Omar Makram mosque on the edge of Tahrir Square, said that he received nine stitches to his head after six soldiers beat him with wooden clubs on Saturday morning. They attacked him as they were trying to storm the hospital, even though he told them he was a doctor.
The press conference on Tuesday marked the inauguration of a "liars" electronic campaign, which aims at exposing the army's deception through evidence, videos and pictures. The campaign's activists showed footage of military forces brutally assaulting protesters, in addition to a montage of the two conferences held by the SCAF and Prime Minister Kamal al-Ganzouri. The videos shown completely contradict the official statements made by the SCAF and Ganzouri.
For example, a video from the military and government press conferences, claiming that military forces practiced restraint and did not use live fire, was contrasted with videos of soldiers firing at protesters and people suffering from gunshot wounds.
Gamal Eid, lawyer and director of the Arab Network for Human Rights Information (ANHRI), revealed in the conference that three of the children purported to be paid thugs implicated in vandalizing public property and inciting violence were in reality detained for other crimes two days before clashes erupted. Since then, they have resided in Hadayeq al-Qubba police station.
According to Eid, parents of Mohamed Saleh, Sayed Saleh and Karim al-Hawary called lawyer Tarek Awady after they saw their children on state TV to notify him that their children were arrested two days before the clashes, after which their detention was extended until 24 December.
"These kids were forced to take off their clothes in order to look like thugs and testify in front of TV," said Eid.
The parents, along with Awady, filed a lawsuit against the general prosecutor and an investigation is currently underway, added Eid.
"This scandal proves the strong cooperation between the police and the SCAF," he said.
A statement signed by the organizations present on Tuesday stated that the sit-in by the cabinet building was calling for a legitimate revolutionary demand: the formation of a national salvation government after the military council's failure to manage the transition period.
The 31 organizations accused the military of using government buildings surrounding the sit-in to attack the protesters. They said soldiers positioned themselves on rooftops, fired live ammunition and hurled Molotov cocktails and rocks.
They also said the military meant to set public buildings ablaze in order to accuse protesters of vandalism and spread fear among citizens.