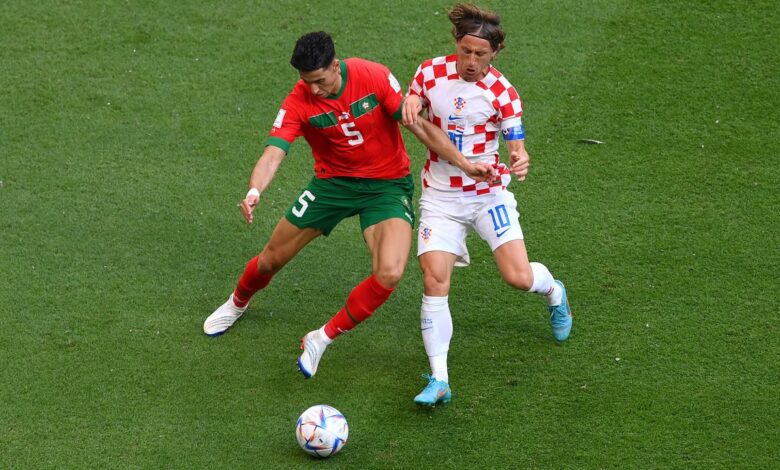 The confrontation of Croatian national team and Morocco in their match for third place in the 2022 Qatar World Cup will start at five PM on Saturday at Khalifa International stadium.
Morocco and Croatia
Croatia lost to Argentina 0-3 in the semi-finals on Tuesday evening at Lusail stadium, as part of the semi-finals of the 2022 World Cup which will continue until December 18.
While the Moroccan national team lost to France 0-2 in the match that was held at Al-Bayt Stadium on Wednesday evening at "Al-Bayt" stadium in Qatar as part of the semi-finals.
Channels broadcasting the third-place match
The match for third place in the World Cup between Croatia and Morocco will be broadcast on beIN Sports HD and Alkass One HD.
Morocco's campaign
Morocco started its campaign in the World Cup with a goalless draw with Croatia, then beat Belgium with two clean goals, and beat Canada with two goals to one to lead its group with seven points, before beating Spain in the round of 16 with a penalty shootout score of 3/0, after the end of the full time.
The match and overtime ended in a goalless draw, and in the quarter-finals they beat Portugal with a clean goal.
The Croatian national team succeeded in crossing a very difficult obstacle by defeating Brazil in the quarter-finals by penalty kicks, after the end of the original and extra time of the match with a 1-1 draw. They were defeated by Argentina in the semi-finals.
Frequency of the carrier channels
The frequency of the beIN Sport channel, which broadcasts the Croatia match against Morocco, and the frequency of the beIN Sports HD open channel are:
Frequency: 11566
Coding rate: 27500
Polarization: horizontal
Alkass One HD channel frequency
Frequency: 11919
Polarization: horizontal
Coding rate: 27500