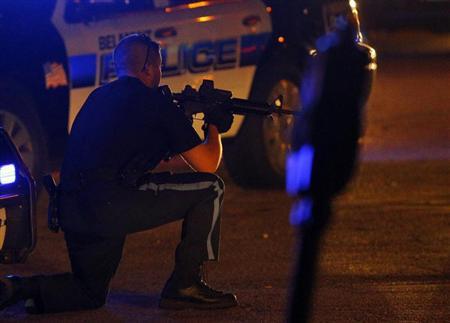 Police killed one suspect in the Boston Marathon bombing during a shootout and were engaged in a house-to-house search for a second man on Friday in the Boston suburb of Watertown after a bloody night of shooting and explosions in the city's streets.
Authorities warned people in Watertown not to leave their homes and not to answer the door. During the night a university police officer was killed, a transit police officer was wounded, and the suspects carjacked a vehicle before leading police on a chase that ended with one suspect shot dead.
Police said the suspect they were seeking was the man shown wearing a white cap in surveillance pictures released on Thursday night which had been taken shortly before Monday's explosions that killed three people and wounded 176 at the finish of the Boston Marathon.
The blasts triggered security scares across the United States and evoked memories of the 11 September 2001 attacks. On Friday the authorities effectively closed down Boston, halting transportation systems and telling people to stay home as the hunt continued.
Officials said as police had closed in on the two men overnight they attacked the officers with explosives and gunfire before one of them was shot and taken to a hospital, where he died.
"We believe this to be a terrorist," said Boston Police Commissioner Ed Davis of the suspect still at large. "We believe this to be a man who has come here to kill people. We need to get him in custody."
The dramatic events overnight followed the release on Thursday by the US Federal Bureau of Investigation (FBI) of pictures and video of two suspects seen wearing backpacks and baseball caps in the crowd minutes before the bombs exploded.
About five hours later, a university police officer was shot and killed on the campus of the Massachusetts Institute of Technology, the Middlesex County District Attorney said in a statement.
A short time later, police received reports of a carjacking by two men who kept their victim inside the car for about half an hour before releasing him, the statement said.
Police pursued that car to Watertown, where explosives were thrown from the car at police and shots were exchanged, the statement said.
"During the exchange of the gunfire, we believe that one of the suspects was struck and ultimately taken into custody. A second suspect was able to flee from that car and there is an active search going on at this point in time," Colonel Timothy Alben, superintendent of the Massachusetts State Police, told a news conference.
The wounded suspect was taken to Beth Israel Deaconess Medical Center, where he died, said Dr. Richard Wolfe, chief of emergency medicine.
"This was a trauma arrest, multiple injuries, probably, we believe, a combination of blast, potentially gunshot wounds," Wolfe told a news conference. When asked how many gunshot wounds, he said: "Unable to count."
The blast injuries may have been caused by "an explosive device, possibly shrapnel, thermal injury. It was pretty much throughout the trunk. It was multiple wounds," he said.
Inside the 20-block search area, police performed street-by-street checks of yards with full tactical gear, long rifles and full armor, a Reuters photographer witnessed.
Massachusetts Governor Deval Patrick suspended all public transportation service on the Boston-area subway, bus and rail system as a precaution.
"People that are at subway stations or at bus stops we are asking them to go home, we do not want people congregating and waiting for the system to come back on," said Kurt Schwartz, director of the Massachusetts Emergency Management Agency.
Schwartz also asked people in the Boston-area communities of Newton, Waltham, Belmont, Cambridge and the Allston-Brighton to stay indoors and asked businesses in those areas to remain closed pending further notice.
MIT said it canceled all classes on Friday after one of its police officers was killed.
US President Barack Obama was briefed overnight by a counterterrorism aide on the Boston bombing investigation and manhunt, a White House official said.