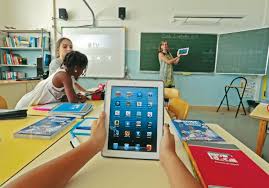 Education Minister Tarek Shawky said Thursday that the Ministry of Education has allocated 1 million tablets to be distributed to high school students, teachers and principals, saying that the students would be able to keep the free tablet even after graduating, Al-Watan newspaper reported.
During an interview on Wednesday with ON Today program, which airs on ON Live, Shawky added that the tablets will not be distributed to private schools.
Shawky also explained that the Internet provided on the tablets will either be through data or WiFi, in cooperation with communication companies and the Communications Ministry.
Egypt ranks number 82 in human capital and research in general and ranks 58 in education on the Global Innovation Index, which measures the performance of countries in different fields.
Egypt ranks 93rd for knowledge and technology output on the same index.
Examples of poor public education in Egypt range from unequipped schools, an inadequate number teachers who are often poorly trained and under-paid and unreasonable exams, in addition to the lack of use of technology.
According to Shawky, 72.4 percent of students passed the Thanawya Amma — the Egyptian high school exams — in 2017, compared to 66.3 percent pass rate in the International General Certificate Secondary Education (IGCSE), as reported by the Times Educational Supplement.
While the pass rate in Egyptian education is higher than the IGCSE pass rate, many parents who can afford to put their children into international or private schools rather than in the public system, which do not adequately prepare students for the challenges of the workplace.
Further, the Egyptian Thanawya Amma exams have a reputation for not being fair due to the amount of cheating that occurs.
In 2012 the anonymously created Chao Ming Facebook page was created and every year since exam papers have been leaked a day before students sit for tests.
In 2015 the Chao Ming page also leaked the ministry's official answer sheet.