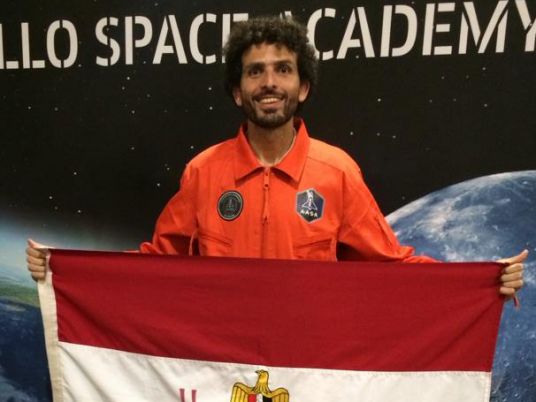 Omar Samra has won the AXE Apollo Space Academy competition in the US state of Florida, beating out 112 worldwide competitors to be the first Egyptian in space.
Along with another 21 winners from around the world, Samra passed all the physiological and physical examinations, including space-simulating challenges, qualifying him to embark on the journey.
"Tonight was one of those epic moments in a man's life. When you get the privilege to go to a place where few have," said Samra on his official Facebook account. "After many months of hard work and perseverance I have won the opportunity to fly 100km above sea level and into outer space."
The competition, sponsored by AXE, a popular brand of men's deodorant, aims to launch 22 contestants into Earth's outer orbit on a private spaceship built by the US company XCOR Aerospace and operated by the tourism firm Space Expedition Curacao. Tickets for the flight are normally set at US$95,000.
Famous astronaut Buzz Aldrin, the second man who set foot on the moon after Neil Armstrong during NASA's Apollo 11 mission in 1969, joined AXE to promote the competition. "Space travel for everyone is the next frontier in the human experience," he said.
In September in a grand event at UAE after a digital voting there were three Egyptian winners were qualified to proceed to the final round of the AXE competition. Along with Samra were self-proclaimed adventurers and globetrotters Ahmed Haggagovic and Ahmed Khaled.
Samra, the 32-year-old mountaineer, was the first Egyptian to climb the highest mountain on every continent in 2007 as well as the first Egyptian to climb Mount Everest, the highest mountain in the world.
In April 2012, Samra attempted to climb Mt. McKinley, the highest mountain in Alaska and North America, but after 22 days on the mountain, the team retreated due to severe weather conditions, but Samra returned in 2013 to attempt the mountain one more time and reached the summit.
Samra thanked everyone who supported his journey and continues to give him a reason to believe in the beauty of his own dreams.
Samra believes that life is about pushing your own mental, physical and spiritual boundaries beyond the limit of what you ever thought possible.
"We must all do this to grow and discover what were truly capable of, then pass the baton to those who are capable of stretching those limits even further. Most importantly we do this to inspire a future brighter and better generation," he said.