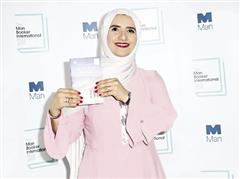 Omani writer Jokha Alharthi won the 2019 Man Booker International Prize for her novel "Celestial Bodies" in which she talks about an important stage in her country's history. The novel was translated into English by Marilyn Booth.
Five other writers from France, Germany, Poland, Colombia and Chile competed for the award.
This year, the jury received 108 novels written in 25 languages ​​and selected 13 long-list novels before settling on only six for the short list.
The prize, worth £50,000, is presented for the best translated novel, translated from its original language into English. The winning novel was published in the UK. The author and the translator share the prize together, while each author and translator on the short list share £1,000.
The winner was announced by Bettany Hughes at a ceremony at the Roundhouse in London.
President of the 2019 Man Booker International Jury and British writer Bettany Hughes said of the winning novel: "A book to win over the head and the heart in equal measure, worth lingering over."
"Its delicate artistry draws us into a richly imagined community — opening out to tackle profound questions of time and mortality and disturbing aspects of our shared history. The style is a metaphor for the subject, subtly resisting clichés of race, slavery and gender," she added.
The Guardian described the novel as "glimpses into a culture relatively little known in the West," while the National newspaper said the novel "mark[s] the arrival of a major literary talent … a densely woven, deeply imagined tour de force."
According to the prize's official website, Alharthi is the first female Omani novelist to be translated into English and the first author from the Arabian Gulf to win the prize.
"Celestial Bodies tells of family connections and history in the coming-of-age account of three Omani sisters. It is set against the backdrop of an evolving Oman, which is slowly redefining itself after the colonial era, at the crossroads of its complex present," the prize's official website said.
Alharthi, who holds a doctorate degree in Arabic literature from the University of Edinburgh in Scotland, has published two novels, two collections of short fiction and a children's book. Her novel Narangha won the Sultan Qaboos Prize for Culture, Arts and Letters in 2016.
Edited translation from Al-Masry Al-Youm