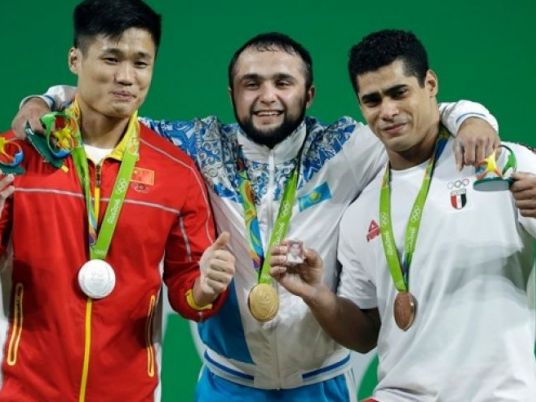 Egyptian weightlifter Mohamed Ihab, who won the bronze medal at this month's Olympic Games in Rio de Janeiro, has said he submitted an application for Qatari citizenship prior to the Games due to a lack of support for his sporting career in Egypt.
During an interview with a talk show on Al-Nahar channel on Monday, Ihab said he applied for Qatari citizenship out of exasperation at the difficulty of pursuing the weightlifting profession in Egypt, but that the process for obtaining the documents from Qatar was slow.
He said he won three medals in the 2014 world championship: two silver and a bronze. Yet of the approximately LE400,000 that went with the wins, Ihab only took home LE185,000, Youm7 reported.
"I was told that I would be given the cash value of one medal and 25 percent of the other two medals. 10 Percent will be deducted from each for taxes," he said, adding that the same happened when he won three medals in another competition in 2008.
"I used to train between shifts at an electricity company, where I was earning LE125 a month," he recalled, saying his pitiful salary eventually crept up to LE800. He said he chose weightlifting over marriage, as the sport required too much money for him to afford to marry as well.
Ihab said his father was the reason behind his success, as he encouraged Ihab not to give up or abandon the dream, despite the financial obstacles.
"Weight lifting is a very costly sport. It needs a special diet and expensive supplements," he said.
"I used to practice at Giza youth center, but the board asked me not to throw the barbells on the ground with too much force because the building was so dilapidated," he said, indicating a lack of quality training facilities in Egypt.
Several weightlifting champions have already left Egypt for Qatar, said Ihab, hoping to find a better environment in which to advance their weightlifting careers.
Edited translation from Al-Masry Al-Youm