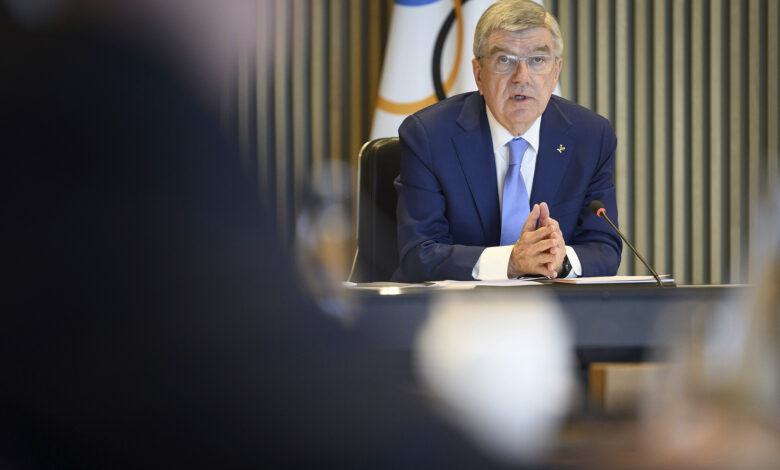 International Olympic Committee (IOC) President Thomas Bach on Tuesday defended plans to allow Russian and Belarusian athletes to participate in international competitions.
"First of all, what is maybe most important, what has changed, is that participation of athletes with Russian and Belarusian passports in competitions and in international competitions, works," Bach said at the start of the IOC executive board's three-day meeting to discuss solidarity with Ukraine, the sanctions against Russia and Belarus, and the status of athletes from these countries.
"We see this almost every day in a number of sports. We see it most prominently in tennis, but we see it also in cycling. We see it in some table tennis competitions, we see it in ice hockey, we see it in handball, we see it in football and in other leagues — in the United States, but also in Europe, and we also see it in other continents," he added.
More background: In February 2022, the IOC executive board recommended that International Sports Federations and sports event organizers "not invite or allow the participation of Russian and Belarusian athletes and officials in international competitions."
But this January, the IOC outlined a multi-step plan for Russian and Belarusian athletes to participate at the upcoming 2024 Summer Games in Paris and the 2026 Winter Games in Milan, which was met by criticism from the United States, Canada and several European countries, including the United Kingdom, Germany and Poland.
Russian and Belarusian athletes have been competing as neutrals in some international competitions.
"It's even that the governments on whose territory the competitions are taking place, they're issuing visas (to Russians and Belarusian athletes) with very few exceptions. In other countries, they're even issuing working permits where it's necessary for these players and athletes," Bach said.
On Thursday, World Athletics president Sebastian Coe announced Russian and Belarusian athletes will still be excluded from World Athletics Series Events "for the foreseeable future" due to Russia's invasion of Ukraine, reaffirming the organization's March 2022 decision.