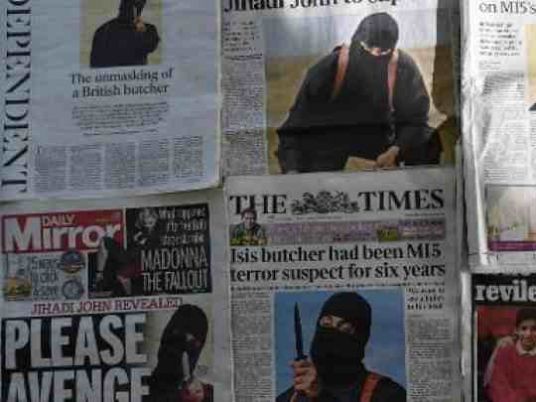 The US government has "very recent indications" that "
Jihadi John
" — the notorious, English-speaking, hooded ISIS executioner seen in violent hostage beheading videos — is alive and most likely hiding in or near the self-declared ISIS capital of Raqqa, Syria, two US officials told CNN on Thursday.
The officials declined to specify what type of intelligence had led to this assessment, but said the information indicates he was believed to be at a particular place at a point in time. The assessment is especially important to the Obama administration because it has been months since Jihadi John has been seen in one of ISIS's brutal hostage execution videos. It is possible he has been on the move since the information came to light. But any information about his location increases the chances the US-led coalition can successfully target him, the officials said.
Unverified news reports have suggested he may be on the run from ISIS, also known as ISIL, because his activities put the group in the crosshairs of the world. But US officials familiar with the latest administration thinking say they do not believe that is the case. He may now simply have been shifted to other work for ISIS to keep him out of the public spotlight, officials said. US officials are continuously reviewing what they know about him and reassessing whether he is solely a violent front man for ISIS or may have other expertise the group is using.
Jihadi John's real name is believed to be Mohammed Emwazi, who was born in Kuwait in 1988 but then moved to the UK in 1994. He may also be trying to stay out of sight in order to ensure there is no contact with family members that can be monitored by US or British intelligence services.
"There's no doubt that coalition strikes against ISIL, and increased counterterrorism pressure from our partners, is forcing ISIL senior leaders and other high-profile members to lessen their footprint," one US intelligence official told CNN. The official noted that while operatives like Jihadi John — who had such a global profile in recent months — may be finding it difficult to stay hidden, the group is highly adaptive, so they may have found unique ways to stay out of sight.
Emwazi is a top priority target for the US because he killed American, western and Japanese hostages. But there are two other top targets the US is pursuing, including ISIS leader Abu Bakr al Baghdadi.
But due to the growing threat of lone wolf attacks in the US, several US officials told CNN that there is growing and "intense" US interest in targeting and striking a key ISIS operative that has inspired several attacks, including messaging with and radicalizing the perpetrator of the attack at the
Garland, Texas, cartoon contest
. The operative is known online as Junaid Hussain, though the US has not officially confirmed that name. US officials say there are also recent indications he too remains alive and operating in Syria.
Hussain is alleged to have circulated on social media a list containing addresses and photos of US military personnel, which was
widely viewed as a hit list
.
While there is no public acknowledgment of US and coalition intelligence-gathering operations inside Syria, all signs point to an increasing ability by intelligence services to monitor and understand at least some movements and operations by ISIS leaders around Raqqa.
Officials have said a good deal of intelligence was learned after the US military raid in Syria earlier this year that killed ISIS senior operative Abu Sayyaf and captured his wife. But in recent weeks, US-led airstrikes have bombed bridges in Raqqa to keep ISIS from moving around, as well as highly protected buildings in the city — indicating a planned effort to target specific elements of the group and put more pressure on the overall organization. The US also continues to monitor all known ISIS social media accounts and conduct surveillance of its telephone and online communications when they can find them.