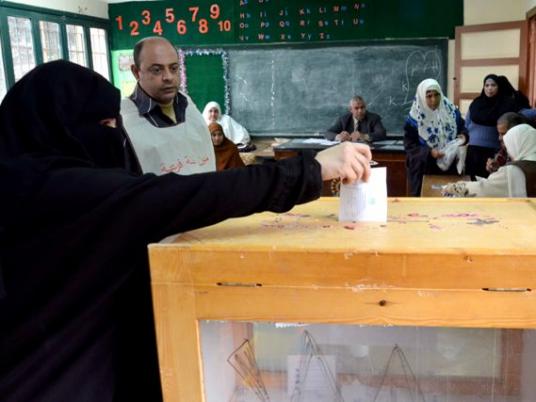 Voter participation in the runoff of the second round of elections will not exceed 20 percent, the Cabinet's Information and Decision Support Center (IDSC) deputy, Mohamed Ramadan, told Al-Masry Al-Youm.
The low turnout was expected due to a lack of competitiveness between candidates and the similarity of their ideologies. Runoff in most constituencies are taking place between the Muslim Brotherhood's Justice and Freedom Party and the Nour Party, a Salafi group.
Eyewitnesses and NGOs monitoring the polls had said very few voters showed up for the first three hours of polling, which officially began at 8 am.
Illegal election day campaigning continued at polling stations despite the security presence.
Observers from One World Foundation for Development and Civil Society Care, an Egyptian NGO, said the Muslim Brotherhood's Freedom and Justice Party (FJP) and the Salafi Nour Party were attempting to sway voters at the polls.
The organization also reported that voting centers in some governorates opened late, adding that such delays are becoming the norm.
Nearly 18 million Egyptians are eligible to vote in the second round of People's Assembly elections, during which 118 candidates are vying for 59 single-winner seats in 30 constituencies. Polls for list-based seats in three constituencies are also being held simultaneously with the runoffs, after being postponed earlier this month December following a court order that forced last-minute changes to the party lists.
The FJP and Nour Party lists are in fierce competition in the second phase, with the parties fielding 47 and 36 candidates, respectively.
The FJP says its lists have won 37.2 percent of the vote in the second stage, not counting run-off results. The high elections commission says voter turnout in the nine participating governorates is around 67 percent for this round.
Translated from Al-Masry Al-Youm