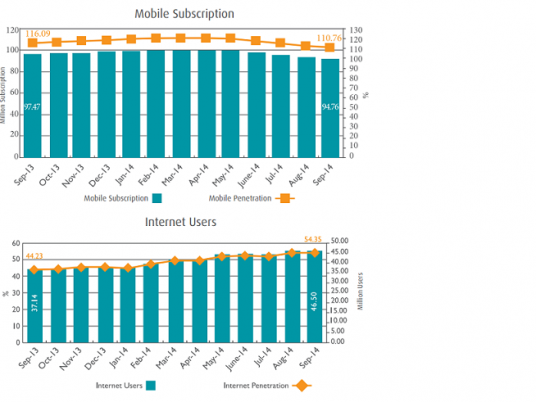 According to Hisham Alayli, CEO of the National Telecommunications Regulatory Authority, the Egyptian telecommunications market is not saturated, as some claim. It is profitable and promising, as it achieves annual profits of between 35 – 40 percent, Al-Masry Al-Youm writes.
He pointed out that Etisalat Misr has submitted a request to obtain a unified license for about LE2.5 billion, denying the official announcement made by the Ministry of Communications, who said that no such request had been submitted by the company.
The global index for the Egyptian market indicates that the optimal number of mobile licenses in Egypt should range between 3 and 4 licenses, said Alayli, pointing out that the majority of countries around the world reduce the number of mobile licenses from 5 or 6 to 3 or 4.
The number of mobile phone subscriptions in Egypt declined by 9.04 percent since 2014, to 96.03 million as of April 2015, according to government figures. However, in the first four months, Egypt's three mobile operators — Etisalat Egypt, Mobinil and Vodafone's unit in Egypt — have increased their amount of subscriptions by 700,000, which represents a 0.74 percent rise.
Alayli mentioned that the authority was the first party to call on mobile operators to improve the service, which deteriorated after the 25 January revolution.
According to Alayli, mobile companies in Egypt have invested about LE8 billion in infrastructure in 2014, which was reflected in the improvement of the level of services until last June.