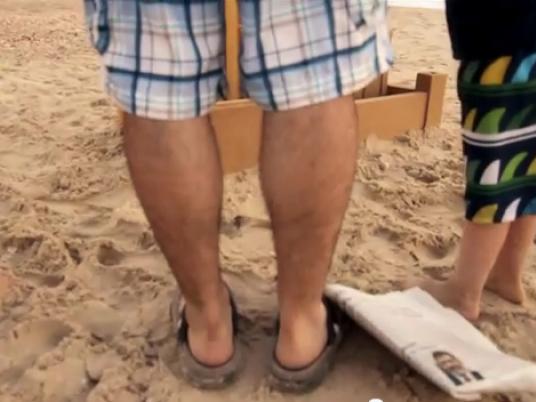 The Egyptian Foreign Ministry on Wednesday said the Israeli television commercial that was considered abusive to President Mohamed Morsy was not broadcast on any official channel of Israeli television.
"It was posted on Youtube by a non-governmental organization," said Egyptian Foreign Ministry spokesperson Amr Rushdy, adding that the subtitles were in English and not Hebrew, the language used for commercials on Israeli television.
The video clip, which was posted to YouTube on 19 July, shows an Israeli family on the beach, with the father reading a newspaper while his children are building a temple out of sand. After the children finish, the father throws his newspaper to the ground, and it falls to his feet showing Morsy's photograph. The video's caption reads, "Two children change the world while their father reads the newspaper."
The advertisement is for the Temple Institute, which advocates for rebuilding of the Temple of Solomon, a historically and religiously significant structure that was built in the 6th century BC and expanded by King Herod before its destruction in 70 AD. Rebuilding the temple would likely undermine the Al-Aqsa complex that hosts the Dome of the Rock, located near where the temple once stood.
Edited translation from Al-Masry Al-Youm