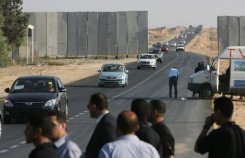 A number of prominent Egyptians on Monday slammed the attacks on security officers at the Egypt-Israel border, describing it as a "terrorist" incident and demanding that the perpetrators be brought to justice.
At least 16 Egyptian security officers were killed on Sunday by gunmen in an assault on a Sinai checkpoint. The gunmen then seized two military vehicles and attempted to storm the border into Israel.
Ahmed Kamal Abul Magd, former vice president of the National Council for Human Rights, said national security needs to be prioritized, adding that the attacks could represent an attempt to discredit President Mohamed Morsy's Renaissance Project and to damage Egypt's international standing.
Egypt needs to strengthen its security policies in Sinai, Abul Magd continued. He highlighted the role of state institutions, civil society organizations and media in improving security, saying that the country's rulers need support to confront these threats.
Hafez Abu Seada, head of the Egyptian Organization for Human Rights, called for the redeployment of Egyptian forces in Sinai, especially the border areas, Al-Masry Al-Youm reported.
Mohamed Ibrahim Shaker, head of the Egyptian Council for Foreign Affairs, said that the tunnels under the Egypt-Israel border must be dealt with in order for these security issues to be resolved. He offered condolences to the families of the victims.
Securing Sinai should be a top national priority, agreed security expert Mohamed Megahed al-Zayyat. He urged the government to work with senior tribesmen to resolve the many problems facing citizens in Sinai.
Zayyat claimed that Sinai has become a venue for organized crime, especially smuggling humans, drugs and weapons. All roads leading to Sinai should be equipped with electronic devices that would help uncover any banned items hidden in vehicles, he continued.
Zayyat also emphasized the importance of paying attention to the Israeli media, which has been describing the security situation in Sinai as weak, and warned about the negative consequences of such claims on Egyptian security.
Edited translation from MENA