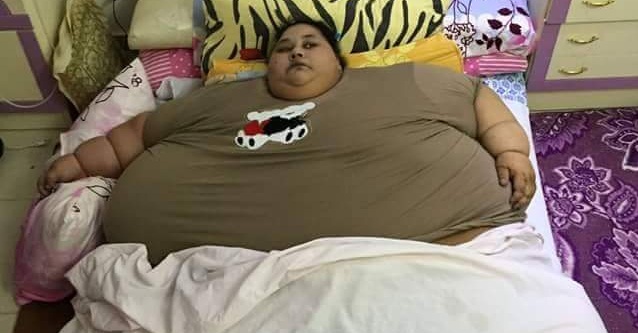 A young woman who is confined to bed due to obesity and paralyzed by a stroke has written a letter begging President Abdel Fattah al-Sisi to intervene on her behalf and arrange treatment at a military hospital.
"I have not been out from my room for 25 years. I would like to get treatment at Maadi Military Hospital," says Eman Abdel Ati.
Eman has suffered from obesity since she was a child due to a hormone imbalance and problems with her glands.
As she reached adulthood, she gained so much weight that she could only move around her house in Smouha, eastern Alexandria, by crawling on her hands and knees.
Now she weighs 500 kg and can't even leave her bed.
Karam Azzam filed a report on Eman's situation with Al-Masry Al-Youm's citizen journalism website Sharek, complete with details of a letter from her family appealing for help.
Eman's family has tried and failed to find appropriate treatment for her disease in Alexandria. Now they have turned to Al-Masry Al-Youm to publicize her woes in the hope that the president or some businessman might help.
Many doctors have reviewed Eman's case, including in Greece, but she has continued to gain weight, despite having no increase in appetite or food consumption.
Two years ago, Eman was able to crawl around on her knees. Then she suffered an injury and her health deteriorated, leading to a stroke. She is now paralyzed and incapable of movement, spending all her time in bed.
"Eman's case has not responded to treatment at any private hospital, because she requires specialized equipment and very big facilities. She is suffering from severe pain, and her case is getting worse every day," says the letter.
The family hopes that with the right kind of financial support and a place in an up-to-date hospital, she might find a cure for her hormal imbalance and eventually lead a normal life.