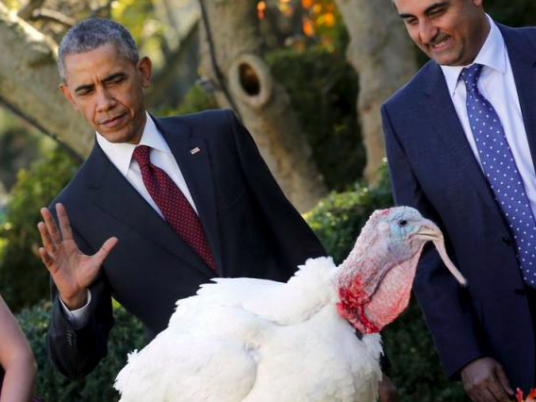 Speaking at his annual Thanksgiving turkey pardoning on Wednesday, President Barack Obama joked about raising teenage daughters, his critics and the 2016 presidential race.
"As you may have heard, for months, there has been a fierce competition between a bunch of turkeys trying to win their way into the White House," Obama said.
Following a long pause and some laughter he added, "some of you caught that."
Obama pardoned two California-raised turkeys, named "Honest" and "Abe," who will retire to a historic farm in Leesburg, Virginia, rather than end up on Americans' Thanksgiving tables.
The turkeys were raised by Dr. Jihad Douglas, whom Obama referred to as "Dr. Douglas," side-stepping the man's first name, which can refer to spreading Islam through violence. Obama referred to a second turkey farmer, Joe Hedden, by his first and last names.
The tradition of the US president pardoning a turkey at Thanksgiving began in 1947 under President Harry Truman, the White House said.
Obama was joined by his two teenage daughters, Sasha, 14, and Malia, 17. He joked they "do this solely because it makes me feel good, not because they actually think that this is something I should be doing."
Last year, Sasha and Malia Obama were criticized on social media for not smiling during the ceremony. A Republican congressional staffer was fired after she posted on Facebook that the girls should show "a little class."
On Wednesday, both Sasha and Malia appeared with beaming smiles and chuckled at their father's jokes.
Obama also used the occasion to roast his critics and the media.
"I've got to listen to my critics say I'm often too soft on turkeys," Obama said. "And I'm sure the press is digging into whether or not the turkeys I've pardoned have really re-dedicated their lives to being good turkey citizens."
Following the ceremony, the first family will travel to a local shelter to serve what Obama called "less fortunate turkey brothers" to homeless veterans.