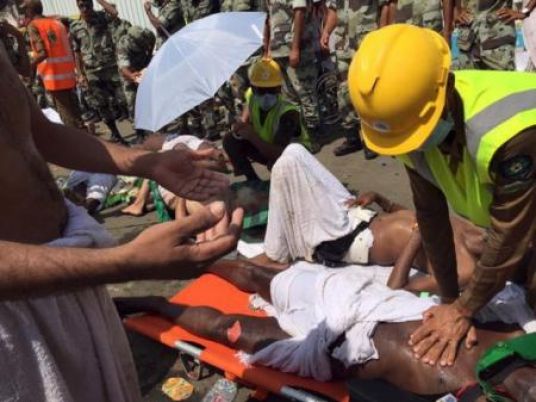 The number of Egyptians killed in in the Mina stampede during the hajj rituals on Thursday rose to 14, said Awqaf Minister Mohamed Mokhtar Gomaa, who leads Egypt's hajj mission.
As many as 31 Egyptian pilgrims were injured in the incident.
The hajj mission and team formed by the Egyptian embassy are following up on the conditions of Egyptians injured in the incident.
As many as 717 pilgrims died and at least 863 others were injured on Thursday when a stampede broke out in the tent city of Mina during a hajj pilgrimage ritual.
Gomaa is due to attend a Friday reception hosted by Saudi king Salman bin Abdel Aziz for heads of hajj missions.
Gomaa will meet with the Saudi Minister of Hajj Bandar Hajjar.