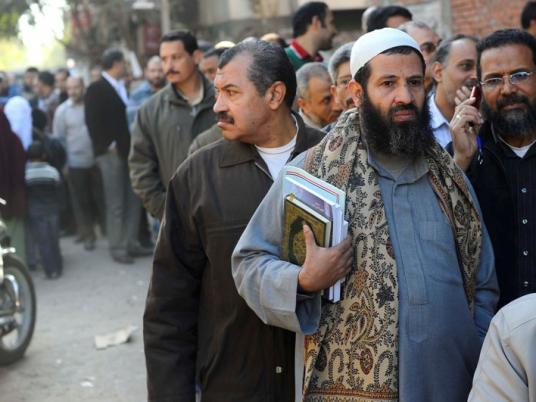 A religious edict by Salafi Preacher Abu Is-haq al-Howeiny, urging boycott of constitutional referendum, has caused confusion for the Salaf-led Nour Party.
Khaled Alam Eddin, a party leader, said Howeiny's decision represents a difficulty for the party's campaign to convince the Salafi trend with the constitution, especially that other Salafi preachers rejected the constitution.
"The Salafi Dawa still has a wide segment of the Salafi trend, but we feel the danger, as the referendum failure threatens the roadmap, in case we didn't see the rallies that gathered before polling stations in 2012 constitutional referendum. Moreover, the party and other political groups in general have a problem that citizens feel their votes will not matter after dissolving parliamentary councils and suspending 2012 constitution, which makes it harder," Alam Eddin told Al-Masry Al-Youm.
"The party will increase the campaign's efforts. However, I don't expect it will be able to rally the millions that were gathered before due to previous circumstances coinciding with the Muslim Brotherhood and its alliance calls to boycott the referendum," he added.
Shaaban Abdel Aleem of the Nour Party, said his party formed a committee to communicate with Salafi figures like Howeiny, Mohamed Hassan and Mohamed Hussein Yaaqoub to convince them of the constitution and efforts made to defend the Islamic Sharia during the amendment process of the constitution.
Abdel Aleem added that Howeiny's edict will have great impact on the party's youth and the Islamist trend particularly since he has a large following. He added that the party figures and the Salafi Dawa in governorates hold meetings continuously to gather rallies for the constitution.
Howeiny had earlier said the constitution was flawed and urged boycotting the referendum. Though some members of Nour Party and Salafi Dawa were skeptic that the edict was true, Howeiny's son Hatem confirmed his view.
Edited translation from Al-Masry Al-Youm