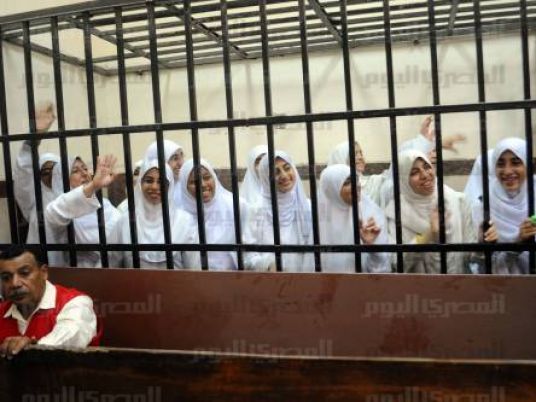 Sherif Taha, spokesperson for the Salafi Nour Party, has called for 21 female Muslim Brotherhood supporters, including seven minors, to be released after they were handed contentious prison sentences on Wednesday.
Taha called for the girls to be released through a "presidential amnesty" from Adly Mansour.
An Alexandria misdemeanors court sentenced Wednesday 21 Muslim Brotherhood girls, including seven minors, to 11 years in prison.
The ruling stated they would be monitored by the police for 4 years after their release.
The girls were charged with joining a terrorist group, assembling, blocking roads, thuggery, destroying properties, and disturbing public peace in Alexandria, Egypt's second city.
The ruling sparked widespread criticism on social networking websites, both inside Egypt and beyond.
Presidential hopeful and founder of the Popular Current, Hamdeen Sabbahi, also called on interim President Adly Mansour to issue a pardon for the girls.
"I call on President Mansour to use his powers and pardon the girls sentenced to 11 years in prison," he wrote on Twitter.
Spokesperson for the National Salvation Front Azazi Ali Azazi also criticized the ruling saying that such a severe sentence should not take place after the revolution.
Nour spokesperson Taha also demanded the newly-decreed protest law be withdrawn, after activists planned protests against the controversial law for the third dday running.