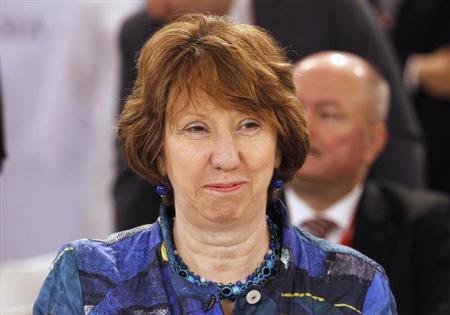 The Salafi Nour Party's meetings with EU foreign policy chief Catherine Ashton stressed the necessity of pursuing an inclusive political process in Egypt, according to its spokesperson, Sherif Taha.
Taha said the delegation had discussed the importance of maintaining the gains of Egypt's 25 January revolution, particuarly the freedoms and rights enshrined in the 2012 Constitutional Declaration.
Ashton reportedly expressed concerns over the lack of mutual confidence between political groups in the wake of the 3 July overthrow of President Mohamed Morsy.
The EU official stressed that Egypt's transition must remain peaceful, adding that the crisis would have to be resolved through dialogue.
The Salafi-oriented Nour delegation also warned against arrests of Islamist figures and practices by the Interior Ministry aimed at suppressing its opponents, Taha said.
The Nour delegation included its deputy chief for political affairs, Bassam al-Zarqa, and Ashraf Thabet, a member of the party's presidential council.
Edited translation from Al-Masry Al-Youm