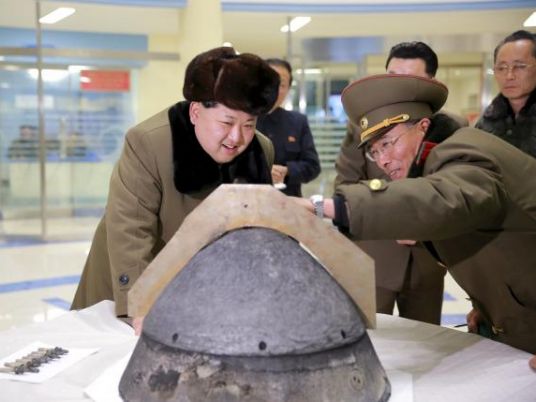 North Korea is ready to conduct an additional nuclear test at any time, South Korea's Defence Ministry said on Monday, three days after the reclusive North's fifth test drew widespread condemnation.
Pyongyang set off its most powerful nuclear blast to date on Friday, saying it had mastered the ability to mount a warhead on a ballistic missile and ratcheting up a threat that its rivals and the United Nations have been powerless to contain.
"Assessment by South Korean and U.S. intelligence is that the North is always ready for an additional nuclear test in the Punggye-ri area," the site of the North's five nuclear explosions, South Korean Defence Ministry spokesman Moon Sang-gyun told a news briefing.
"North Korea has a tunnel where it can conduct an additional nuclear test," Moon said.
South Korea's President Park Geun-hye said later that North Korea's nuclear weapons and missiles posed an "imminent threat", as tensions rose on the Korean peninsula in the wake of the test last week.
"As North Korea has publicly said nuclear warheads have been standardized and customized to mount on ballistic missiles, we should keep in mind that North Korea's nuclear missiles are a realistic, imminent threat targeting us, not a simple threat for negotiations," Park said in a meeting with major political party leaders.
Pyongyang's assertions that it is able to miniaturize a nuclear warhead have never been independently verified.
South Korea is pushing for more sanctions against Pyongyang to close what it says were loopholes left in the last United Nations Security Council resolution adopted in March.
"We expect that China, as one of the Security Council member states, should take this issue seriously and play a very constructive role to come up with a very effective and strong sanctions resolution," a South Korean foreign ministry official said.
The Security Council denounced the latest test and said it would begin work immediately on a resolution. The United States, Britain and France – three of the five veto-wielding permanent members – pushed for the 15-member body to impose new sanctions.
Both China and Russia, the remaining veto powers, backed sanctions imposed in March following the North's January nuclear test, but their apparent ambivalence about fresh sanctions cast doubt on the Security Council's ability to quickly form a consensus.
China's foreign ministry spokeswoman Hua Chunying said sanctions alone could not solve the North Korean nuclear issue. The crux of the issue lay with the United States, not China, she added.
Russian Foreign Minister Sergei Lavrov said on Saturday a "creative" response was needed.
Bomber flight delayed
North Korean Foreign Minister Ri Yong Ho, formerly the country's chief nuclear negotiator, arrived in Beijing on Monday and was seen entering the country's embassy, Japan's Kyodo news agency reported.
Ri left Pyongyang to attend a meeting of the Non-Aligned Movement countries in Venezuela and later the U.N. General Assembly, the Associated Press reported from Pyongyang without citing a source.
A U.S. special envoy for the isolated state, Sung Kim, will travel to Seoul on Monday. Kim met Japanese officials on Sunday and said the United States may launch unilateral sanctions against North Korea, echoing comments by U.S. President Barack Obama on Friday in the wake of the test.
Yonhap reported that bad weather had delayed the flight of an advanced U.S. B-1B bomber to the Korean peninsula, a show of strength and solidarity with ally Seoul, scheduled for Monday. The flight from the U.S. base in Guam would now take place on Tuesday, a U.S. Forces in Korea official told Reuters, declining to identify the type of aircraft involved.
A group of 31 South Korean conservative lawmakers said the country should have nuclear weapons, either by acquiring its own arms or asking the Americans to redeploy tactical nuclear weapons that were withdrawn from the South under a 1991 pact for the denuclearization of the peninsula.
"We should discuss every plan including an independent nuclear armament program at the level of self-defense to safeguard peace," Won Yoo-chul, a senior lawmaker for the ruling Saenuri Party, said in a statement.
South Korea's defense ministry said there was no change in its policy barring nuclear weapons.