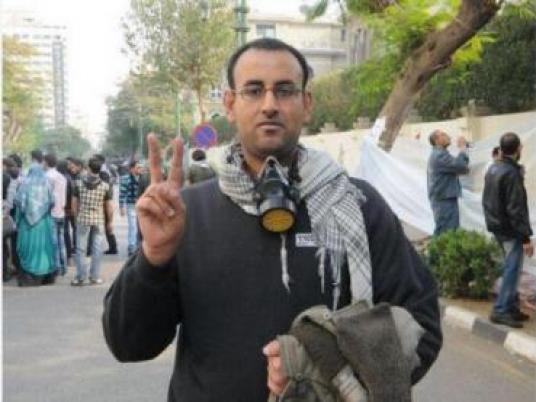 "No photo, no story" read one poster carried by one of many photojournalists at a protest held on 19 March in front of the Shura Council, in response to ongoing violence toward them during the last wave of clashes between security and protesters across the country. Other protesters carried pictures of their bruised colleagues taken after they were beaten by police.
The day reflected a growing plea by photojournalists who feel they have less institutional support, and are therefore more vulnerable, than other journalists.
"As photographers, we have to be on the front line to get our images, so we are more visible but also easy targets," says Eman Helal, a photojournalist at Al-Masry Al-Youm.
Amir Nabil, vice president of the Egyptian Photojournalists Society, which is part of the Journalists Syndicate, says the problems have recently been compounded.
"These last two months, photographers have faced harassment from several sides, police as well as protesters," Nabil says. "It is not something new in our profession in Egypt but we have to raise our voices."
Security forces attacked Nabil back in 2005 — he lost his right eye while covering parliamentary elections when a policeman threw a brick at him. A few years later, and despite the 25 January revolution and regime change, problems persist.
"What happens between photographers and police keeps repeating. It's always the same story. They target photographers, break or confiscate their cameras, steal their wallets and arrest them for hours, while beating them up, or not if they are lucky," says Nabil.
On 16 March, clashes erupted when Muslim Brotherhood members attacked protesters spraying anti-Brotherhood graffiti near the group's headquarters in Moqattam, on the edge of Cairo. Security officers then targeted photographers and journalists covering the clashes.
Witnesses said Brotherhood members used sticks and iron chains in the attack, breaking Mohamed Nabil's leg and Amr Diab's arm. Both men are photographers for Al-Watan newspaper.
"I was taking pictures of young people drawing on the ground, then security guards came out of the [Brotherhood] headquarters building and started to clash with the youth. When they saw me and my colleagues reporting what was happening, they started to shout at us, saying that we were bad media," says Diab.
Diab says they then attacked the photographers and their cameras, and injured his arm. "Afterward, I went to the prosecutor's office to complain, and although he said those who did that would be sued, I haven't seen anything moving or any action taken against them," he says.
Photojournalists see impunity as a reason for the continued attacks against them. Helal says her camera lens was broken and she was punched during a march on 26 January 2011.
"I fell on the ground. Fortunately, people helped me stand up. I'm a member of the Journalists Syndicate, which issued a [statement] but nothing else," she says. "I didn't get any compensation for what happened and the security officers will never get sued."
Earlier this month, Diab and Nabil met with Interior Ministry officials to address the issue. Nabil says they were promised that harassment of photographers would stop, and that a Central Security Forces general would meet with them.
"We do these meetings because we are no one's enemy. We covered [Hosni] Mubarak as we are now covering the Brotherhood. The camera should be respected because it never lies," says Nabil.
Nabil and others complain that police are not the only force preventing them from doing their work. They say protesters also sometimes prevent photographers from doing their work, and threaten to break their cameras if they are caught taking pictures.
Nabil explains that these protesters fear being recognized in the media, leading to police arrests. "Also, most of the time, if they don't want us to take pictures, they are probably doing something wrong," he says.
Hamada al-Rasam, also a photographer, says he understands why protesters are sometimes worried about having their photos taken, because photos can be misused or the wrong captions printed in error.
"The problem is not about a law to respect photographers, the problem is on the ground. The protesters and the police have to understand that we are just taking photos. We want to tell people what happened. We are not the Brotherhood, the ultras or the Black Bloc," says Mohamed Aley Eddin, a freelance photographer.
Nabil stresses this will only happen if people understand that photographers do not take positions. "We would like people to understand that a photographer is not expressing his or her point of view. They are just reflecting what's happening. When they leave their cameras at home, then they can express whatever they want," he says.
With meager pay and scant institutional support, particularly for photojournalists working without contracts, the risks are high. Many say it a passion for the job that keeps them going.
The Egyptian Photojournalists Society was set up as a space for photographers to address the Journalists Syndicate's exclusionary nature and lack of action in some cases. The society was created six years ago, one year after Nabil lost his eye, in response to security forces' abuse of photojournalists.
In early 2007, security forces prevented photographers from taking pictures for more than five minutes in Parliament after an Al-Masry Al-Youm photojournalist took a picture of then-Prime Minister Ahmed Nazif eating a watermelon seed. In response, photographers demonstrated in front of the Journalists Syndicate and decided to form their own division.
Renowned photojournalist Hossam Diab was elected as chairperson, and Nabil as deputy chairperson.
The Journalists Syndicate's membership is limited to photographers with official contracts with media organizations and university degrees.
Nabil says the society is a branch of the syndicate and can not decide on the rules for membership.
"Sometimes those rules are a shame, as we have many photographers in Egypt who are very talented, but who haven't graduated from university," Nabil says. "As a society, we are trying to have accreditation for photographers who can't be part of the syndicate. This accreditation is proof that the photojournalists society is there to help them."
Inside newspapers, photojournalists also face internal challenges. Randa Shaath, head of the photography department at Al-Shorouk daily, says: "Photojournalists face violence in the streets not only from authorities but from thugs and people who have different views of photography If they get harrassed or attacked and go back to their newspapers, they don't always get compensated for their broken or stolen equipments.
"In addition, they are not well paid, their photos are not always published and the newspapers don't give them their proper respect. We are still in a culture that values the written word over an image; a culture that is visually illiterate."