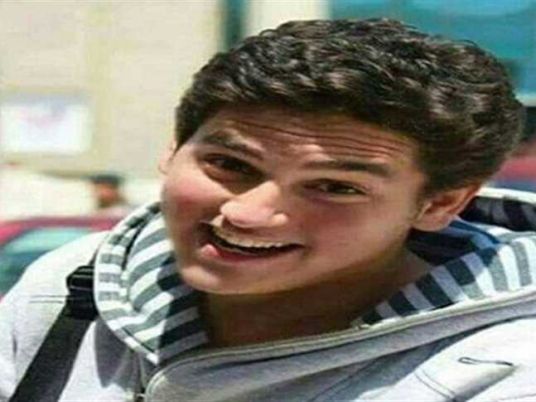 Egypt's Interior Ministry said in a statement on Wednesday that there is no official objection to the medical pardon of 22-year-old Ahmed el-Khatib, or his transfer to a private hospital due to his deteriorating medical condition, in response to ongoing family requests.
El-Khatib's family launched an online campaign last week calling for his release after he was diagnosed mid-March with visceral leishmaniasis, a rare disease caused by the bite of certain types of sand flies, and usually found in dirty, humid, and urban areas. The disease attacks the body's internal organs and immune system, almost certainly leading to death if not forcibly treated.
"There is no objection in meeting el-Khatib family's requests for his treatment at a private hospital at their own expenses, or into taking the necessary legal procedures for his medical release," Interior Minister Magdy Abdel Ghaffar said in a statement.
"El-Khatib is suffering from loss of body weight, paleness, and extreme fatigue. After conducting blood analysis, the results showed low blood hemoglobin, and low white blood cell count. He was consequently deported from his original cell to Tura hospital for examination," the statement added.
The Interior Ministry statement said an insect that is not found in Egypt, but is existent in Iraq and Syria, caused el-Khatib's illness.
George Isaac, a member of the National Council for Human Rights, however previously said in a phone interview with Dream Channel that el-Khatib developed the disease in Egyptian prisons.
Abdel Ghaffar added that el-Khatib is currently under medical observation at the Abasseya Fever Hospital, as it's the only specialized hospital that provides treatment for his condition, adding that a process of disinfection and sterilization was conducted in the prisoner's cell to ensure no other prisoner is infected.
Ahmed el-Khatib was a biology student at Misr University for Science and Technology (MUST). He was 19 when he was taken into police custody after his return to Egypt from a visit to Turkey. He was sentenced in March 2016 to 10 years of hard labour and a LE100,000 fine for "belonging to a terrorist group and for disrupting public order."
El-Khatib's sister, Fatma, launched an online campaign that was soon joined by social media users and activists. The online campaign went viral on Facebook and trended on Twitter by mid-March; an online petition calling for el-Khatib's medical release later followed it.
"Only [after the campaign] was he allowed to be temporarily transferred to al-Qasr al-Aini hospital for examination. It took us almost a year to know what he was actually suffering from: leishmaniasis," Fatma said. "But it's not enough, now he needs to get the right treatment, he needs to be medically pardoned," previously said.
Last Saturday, Osama el-Ghazaly Harb, the head of a committee created late last year by the Egyptian President to recommend for pardon youth arrested in politically-related cases, stood by the call for El-Khatib's release.
"When the committee was first formed, we recommended 529 people for pardon, and el-Khatib was number 292 on this list. Considering his age and health condition, regardless of the charges against him, the president should intervene to release him," Harb said in a column he wrote in Al-Ahram on Sunday.
"This is a humanitarian case, and we should do what is right to facilitate for Ahmed's treatment, instantly, before possible and severe complications arise… el-Khatib's parents should take charge of his treatment, whether in Egypt, or abroad," Harb said in a phone interview on Dream channel.