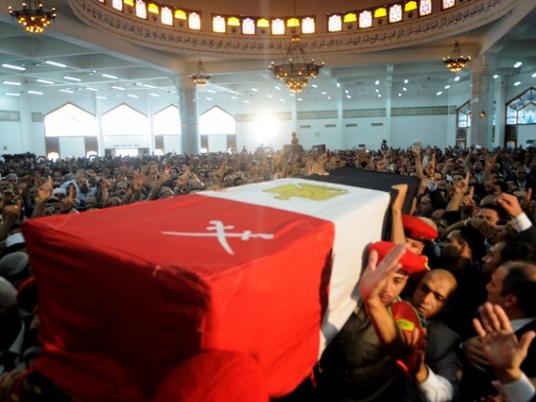 "There is no evidence that Major General Omar Suleiman was killed like Palestinian President Yasser Arafat," the former intelligence chief's first secretary said Thursday.
Hussein Kamal said during a program on Al-Arabiya satellite channel that Suleiman was not suffering from a disease that would have prevented him from running for president, denying that he had cancer.
Kamal added that he first heard of the rare disease inflicting Suleiman when the former vice president died, saying, "I think if he had suffered from that disease earlier, it would have been detected on the spot."
Suleiman suffered from great psychological pressure six months ago due to the deterioration of the political situation, the economy and security in Egypt, Kamal claimed.
"His loss of appetite caused him lose 10 kilograms," he added.
Kamal said that he talked to Suleiman four hours before his death and that his spirits were high. He added that Suleiman had originally gone to Germany for treatment for fluid in his lungs before traveling to the US where he died.
Official reports said Suleiman died of amyloidosis, but some people are claiming he was assassinated. Former Freedom and Justice Party MP Osama Yassin has called for an investigation into Suleiman's death.
Edited translation from Al-Masry Al-Youm