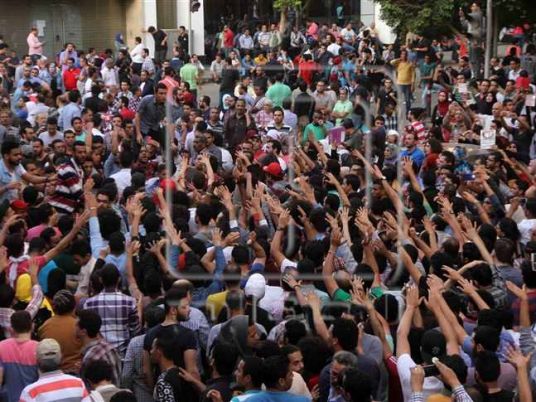 The copies of Atlas presented by some members of the Parliament (MPs), which show Tiran and Sanafir as Egyptian territories, are false copies, said the Parliamentary Affairs Minister Omar Marawan. The comments came during discussions Monday in the House of Representatives (parliament) of the 2016 maritime demarcation agreement with Saudi Arabia.
The copy of Atlas issued by the Military Survey Authority, which was handed over to the Legislative Committee, did not show the two islands as Egyptian land, he added.
The Parliament monitored many counterfeit maps circulated on social media websites, said Parliament Speaker Ali Abdelaal. He added these maps were published by certain parties he did not name to spread confusion among people.
Only the documents published by the Armed Forces on the two islands will be considered authentic, said Abdelaal.
"[I repeat] for the thousandth time: The judicial rulings in this matter are nought. The decisions of any authority that interferes with the [Parliament's] powers will be considered null," Abdelaal reiterated.
Abdelaal pointed out that the Parliament adheres to its powers in accordance to the Constitution.
Meanwhile, during Monday's parliamentary session, Major General Magd Eddin Barakat, representative of the Armed Forces, said: "No Egyptian martyrs fell on the Tiran and Sanafir islands during the war with Israel."
He added that the armed forces keep a complete record of all martyrs and the exact places where they died.
Discussions between MPs continued Monday for the second consecutive day during a meeting of the Legislative Committee of the House of Representatives on the demarcation agreement of the maritime border between Egypt and Saudi Arabia, which gives the Kingdom sovereignty over the islands of Tiran and Sanafir, currently under Egypt's control.
The Legislative and Constitutional committee of the House of Representatives started on Sunday discussing the maritime demarcation agreement signed between Egypt and Saudi Arabia in April 2016.
A report on the situation of the two Red Sea islands, filed by the government to the parliament on Sunday, said that Egypt would enjoy administrative rights on the islands, but that they would be considered as sovereign Saudi lands.
According to the border demarcation agreement signed in April 2016, the two islands were deemed to be within Saudi territorial waters, in recognition of historical claims on the part of Saudi Arabia. The Supreme Administrative Court, however, nullified this agreement on the basis that there was not insufficient evidence of the Saudi claims.
The agreement provoked extensive criticism against the government in April and people took to the streets to protest against the decision, which was followed by a security crackdown.
In a speech, President Abdel Fattah al-Sisi called on the Egyptian people not to talk about the matter anymore.
Edited translation from Al-Masry Al-Youm