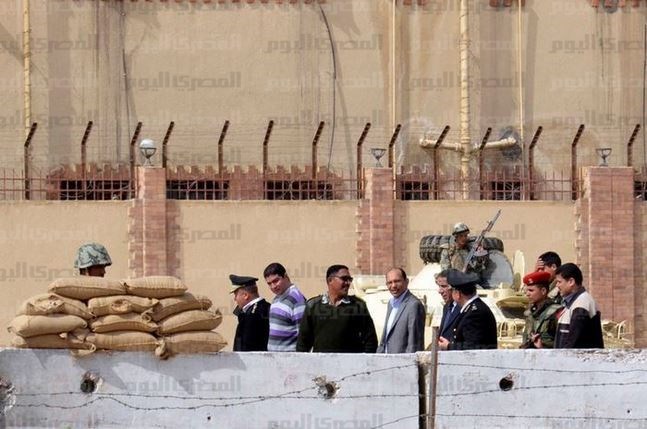 An Egyptian rights watchdog has reported a "dramatic" increase in building new prisons in recent years, with 19 new facilities constructed since the January 25 revolution in 2011.
The Arabic Network for Human Rights Information (ANHRI) made the claims in a new report titled "There is Room for Everyone… Egypt's Prisons before and after the January 25 Revolution".
Prior to the 2011 revolution, Egypt had 43 prisons, but the number has now jumped to 62, according to the report. Of the 106,000 people currently held in Egyptian prisons, around 60,000 are political prisoners of various sorts, ANHRI said.
The 19 new facilities include one built under the rule of the Supreme Council of the Armed Forces (SCAF), two built during the rule of former President Mohamed Morsi, and a further 16 prisons established since Morsi's ouster, which means under interim President Adli Mansour and President Abdel Fattah al-Sisi.
ANHRI based its figures on the Official Gazette and government resolutions issued regarding the establishment of prisons. The Interior Ministry does not make such information public, the rights group said, while media reports on such topics are unreliable.
The rights group linked the spike in prison building to political repression, saying that the government's ongoing crackdown on dissent has necessitated the creation of more prison capacity.
"The dramatic expansion in prison construction is not necessarily due to the increase in population. Rather, it is due to the prevalence of political cases and suppression of dissidents," ANHRI said in a statement.
"The increasing number of prisons is a message that there is always enough room in prison for everyone who opposes or criticizes the current regime…" it said.
ANHRI also set the construction effort within the context of Egypt's economic woes, saying, "… despite the economic crisis in Egypt, the government didn't find it difficult to build (19 new prisons) to accommodate these massive numbers, some of which became the largest in Egypt, such as Gamasa and al-Minya prisons, as each of them can hold about 15,000 prisoners and detainees."
The government has been criticized in recent years for poor prison conditions, including serious overcrowding due to a lack of prison places for the number of detainees. In January 2015, Human Rights Watch slammed Egypt for "life-threatening" conditions in prisons, saying that some prisoners had died since 2013 due to serious overcrowding in cells.
The ANHRI report did not mention any increase in the overall prison population in recent years, suggesting the possibility that the government's prison-building program is partly aimed at fixing the problem of overcrowding.
According to the ANRI report, the 19 new prisons are as follows:
1. Wadi al-Natroun General Prison (Beheira);
2. Qantara General Prison (Ismailiya);
3. Beni Suef Central Prison;
4. Gamasa Penitentiary + (Damietta);
5. Gamasa General Prison (Max-Security);
6. Al-Minya Penitentiary +;
7. Max-Security Minya Prison;
8. Central Prison in Banha 2nd Police Department (Qalyubia);
9. Tora Max-Security Prison (2) (Cairo);
10. Giza Central Prison;
11. Al-Nahda Prison (Cairo);
12. 15th of May Central Prison (Cairo);
13. The Central Prison in the Security Forces Administration, also known as "Kilo 10.5″ Prison;
14. Al-Khosos Central Prison (Qalyubia);
15. Edko Central Prison (Beheira);
16. Baghdad Village Prison (Beheira);
17. El-Khanka Central Prison (Qalyubia);
18. Obour Central Prison (Qalyubia);
19. South Beni Suef Central Prison.
The ANHRI report said there are also several secret prisons and illegal places of detention operated by government bodies.
Such facilities include all places of detention that are not mentioned in the provisions of the law or the terms of ministerial decrees, where detainees are being hidden, such as the Central Security Camps and military prisons.
ANHRI said it had interviewed many people who claimed to have been held at such facilities, and provided a list of facilities they named:
— Central Security Forces Camp in Darasa, Cairo
— The Security Camp in Hikestep, Cairo
— Al-Gabal Al-Ahmar (Red Mountain) Central Security Forces Camp, Cairo
— Security Forces Camp in Aswan
— Central Security Forces Camp in Zagazig
— Central Security Forces Camp Kilo 10.5 "before it became a prison"
— Central Security Forces Camp in Cairo-Ismailia Road
— Central Security Forces Camp in Assiut
— Central Security Forces Camp in Tora
— National Security Apparatus' headquarters (formerly known as State Security Investigation Services), such as Cairo's Nasr City and Alexandria's Faraana State Security Investigations (SSI).
— Military prisons, such as, Al Azouly Military Prison