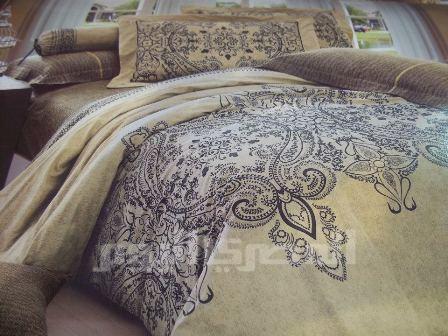 As consumers become keen to buy Egyptian-made products, designers have gained confidence and several small, local fashion and textile business ventures have flourished.
Among the up-and-coming names in home textiles is Nina Shawki, who, beyond focusing on beautiful designs, has tried to keep her bedding line affordable as well.
"My business started in 2007 through a Facebook page," says Shawki, who has completed an education in applied arts and fashion design. She now displays and sells her products through the Egyptian online boutique, StyleTreasure.com.
"It all started with the discovery of my son's allergy to synthetic fibers," says the business owner.
Because of her personal ordeal, the young mother started her own line of cotton beddings after establishing a workshop in Bahr al-Baqar, followed by two more in Shubra and Alexandria.
"Eighty-five percent of the fabrics used are local," says Shawki. Her fabrics vary between cotton, linen and satin.
In the last few years, many designers for bedding sets and linen appeared in the Egyptian market, presenting good-quality sheets with creative and modern designs. However, creativity comes with a cost. Most of the young bedding designers, unfortunately, are beyond the financial reach of the majority of consumers. Custom-made bedding is for those who can afford to pay twice or even triple the original price.
Linen options are limited. The consumer is caught between paying twice for an Egyptian designer with an edge or paying four times for the imported product that is originally produced with Egyptian cotton; both options are frustrating. Shawki combines creativity, good quality and affordability, which is a combination hard to find in the Egyptian market nowadays.
The young designer says she's inspired mainly by the busy scene of the city. She adds that a walk in Old Cairo can inspire her with hundreds of ideas.
"We are a family of landowners, and I grew up appreciating cotton as the essence of life in Egypt," adds the young mother.
As for her views of the market, Shawki says, "The market is ready for the low-priced, high-quality, practical product."
She says design comes next after affordability and practicality. The young designer offers a range of prices for the A+, A and B quality class without compromising quality.
"All my products come with a guarantee," says Shawki. Other than online shopping, Shawki displays her designs in Tika's Bedding and will soon launch her own outlet in Maadi.
The Nina Shawki Collection has been exporting to several European countries, in addition to the Gulf, since 2009.
"As for the local market, half of my clients are newlyweds and the other half are people who are moving out or furnishing a summer house," says the business owner. For young brides, durability is the quality most people look for, she says.
"People want products that last long," explains Shawki.
In the last five years, the Egyptian consumer has become a more careful spender and started to appreciate and rely on online shopping more than before, she says.
"The Egyptian consumer will always be price-oriented," she says. Very few are brand- or design-oriented, and that is why Nina Shawki Collection offers a custom-made service.
Nina Shawki designs are modern, which differentiates them from their competition, says Shawki.
"Our prices are much less than the competition because we manufacture and use local materials," she adds.
The price of a typical five-piece, pure cotton set won't exceed LE600, which might cost double if you are buying elsewhere, Shawki explains. She says printed products cost less than embroidered ones.
Concerning the latest economic and political events, Shawki says more consumers are seeking Egyptian products since the revolution began; however, imported raw materials have become scarce because of stricter customs rules enforced by post-revolution governments.