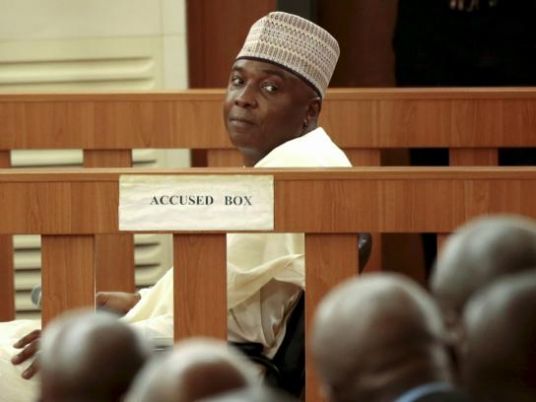 A tribunal considering false asset declaration charges leveled at Nigeria's Senate President Bukola Saraki, the third most powerful person in the country, was adjourned on Friday to deal with questions over its authority.
Saraki, who heads the upper house of parliament, has pleaded not guilty to charges that he falsely declared his assets when he was governor of the central Nigerian state of Kwara from 2003 to 2011. The hearing has just begun.
The 13 charges he faces at the national Code of Conduct Tribunal, a special court that tries asset declaration misdemeanors, mostly relate to the ownership of land held by his company Carlisle Properties Ltd during that period.
Other allegations include transferring US$3.4 million to an account outside Nigeria while he was governor, and sending £1.5 million pounds ($2.1 million) to a European account to cover a mortgage for a London property.
On Friday, Saraki's legal team said the attorney general did not have the power to mount a criminal trial against him.
"We have filed a motion challenging your jurisdiction," Saraki's lawyer, Mr Kanu Agabi told the tribunal.
Rotimi Jacobs, the government's lawyer, called the move a deliberate attempt to "scuttle" the court case.
The case was adjourned until March 18. If found guilty, Saraki would be removed as Senate president, barred from holding any public office for up to 10 years and could be jailed.