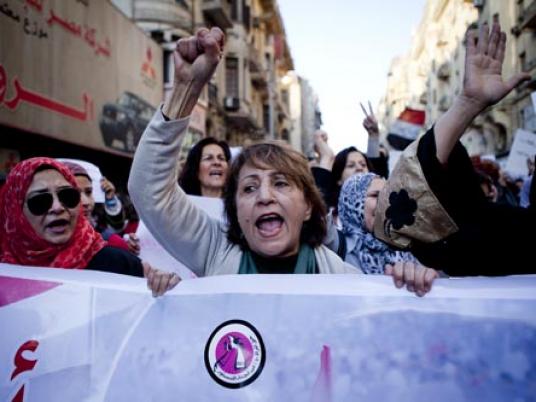 Four Egyptian women found their way on to Newsweek's 2012 "150 Women Who Shake The World." Newsweek explained the list as one of women who stepped out to change the world, and pointed out which women had focused in particular on women's rights. Among the usual suspects — Hilary Clinton, Angelina Jolie, Lady Gaga — were some unknown faces, a plethora of nationalities and 147 other highly remarkable women.
The list was dominated by female journalists and bloggers tweeting and writing from war zones and other positions of peril. Egypt's women included Wedad Demerdash, a garment worker who held a strike at her factory in 2006 and whose passion for fair working conditions and workers' rights helped motivate demonstrators in January 2011.
Mona Eltahawy was also listed — the Egyptian-American columnist was arrested, beaten and assaulted in Cairo in November 2011 and has been very vocal about her experience and the injustices that continue to occur in Egypt.
Samira Ibrahim's ordeal at the hands of the military in March 2011 and her victory in the ensuing virginity test case gave her a well-deserved place on the list, and Asmaa Mahfouz's infamous video blog calling on people to join the 25 January demonstrations in early 2011 brought her recognition as a catalyst in Egypt's uprising.
Egypt's representation in the list was relatively small in comparison to the media focus on the country in the past 12 months, but it stood strong in the list of "Arab Spring" countries. Lara Logan was also present, with a mention of the sexual assault she endured during her time in Cairo.
Beyond Jolie, Oprah and Gaga, other women in entertainment on the list included Meryl Streep, Holland Taylor and three female comedians — Kristen Wiig, Roseanne Barr, Emily-Anne Rigal — credited with changing the face of funny women in the US. Wiig and Rigal both starred in the recent comedy "Bridesmaids."
Other women hailed from the US military — fighting gender-based discrimination — and many were presidents and prime ministers of countries across the globe.
The list of incredible women included a boxer; a Japanese women's soccer team; a cross-dressing, gun toting Afghani woman; an American teenage feminist; and a victim of 18 years of sexual abuse at the hands of a paedophile.
Perhaps one of the most interesting stories involved Hasna Kandatu, a woman from the Philippines who managed to end 40 years of sectarian strife in her village by convincing women to withhold sex from their husbands until they solved the conflict.
The list is extensive and diverse and creates an upbeat vibe about the future of women in the world. With women like this — and so many who didn't "make the list" — women's battles for equality and rights are more than likely to be won.