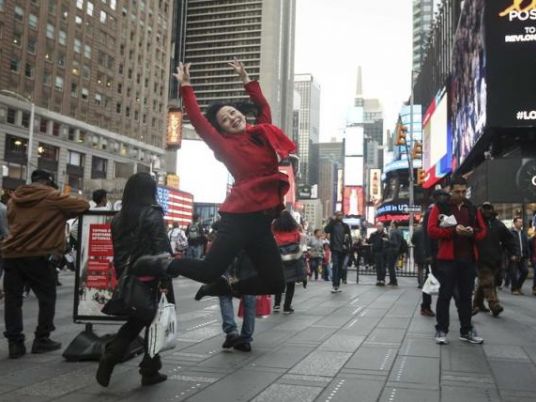 A group of New York City artists have launched a guerilla public art project that will see them replace advertisements with artwork around the city for the next 52 weeks.
Every week for a year, the group – Art In Ad Places, or AiAP – will partner with a new artist to place an artwork in a payphone kiosk in New York City. The project is, according to the AiAP website, "an active and artistic response to the unending proliferation of outdoor advertising in New York City and elsewhere."
The project's genesis dates back to the spring of 2016, when co-curator Caroline Caldwell found herself walking by an advertisement for Brazilian butt lifts every day in Greenpoint, Brooklyn, and disliked its message. AiAP is "a response to the belief that money can buy access to eyeballs, no matter the message."
Caldwell is joined by co-curator RJ Rushmore and a small team of artists and art fans in making the project happen. Recently, AiAP launched with a poster by Philadelphia-based artist Adam Wallacavage, from his Shipwrecks Of Unicorn Beach series, placed at the corner of Lorimer Street and Metropolitan Avenue in Williamsburg, Brooklyn.
Wallacavage told Hyperallergic, "I like the idea of someone seeing my piece and wondering what they're supposed to be buying or where the nonexistent punchline is."
As future artworks are installed, the team will share photos on social media and add artist bios to their website. To follow the project's future installations, follow Art In Ad Places at www.artinadplaces.com, on Instagram (where the tagline reads, "Why are there even still phone booths") or on Facebook.