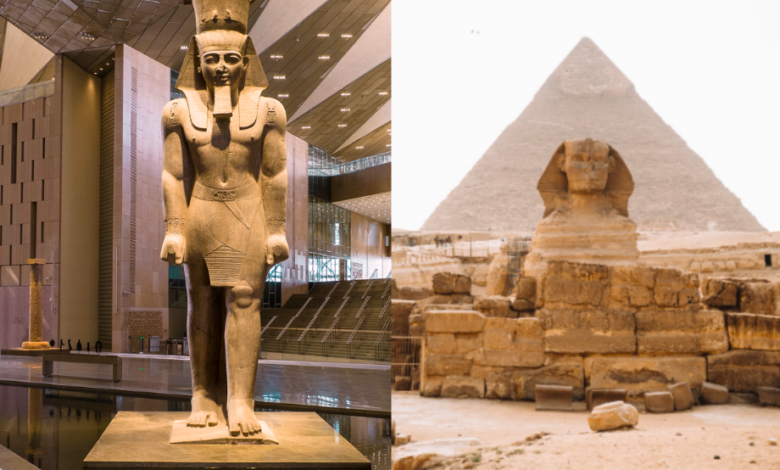 Egypt has put into place a plan to beautify the roads leading to the Grand Egyptian Museum (GEM), which includes the creation of a new tourist walkway to the Giza Pyramids.
Development in the area continues and extends from the Shooting Club area, passing through the Cairo-Alexandria Desert Road to Sphinx Airport as well as the Fayoum Road.
These include the creation of green landscapes and a tourist walkway covering two kilometers with a width of about 500 meters.
State agencies began constructing the walkway from the Shooting Club area to connect to the pyramids and GEM.
Giza is also continuing its "Nazlet al-Semman Stables" project as an alternative to the random stables located around the pyramids region.
The governorate announced the launch of a project to pave, develop and raise the efficiency of the road in the area starting from King Faisal Street in the Mariouteya area, at a length of 2.5 km.
Giza Governor Ahmed Rashid confirmed the start of implementing the state's vision to develop the area surrounding the GEM, as well as repainting properties overlooking both sides of the roads and axis leading to tourist areas.
Egypt's grandest museum
The Egyptian Minister of Tourism and Antiquities, Ahmed Eissa, announced that he anticipates the opening of the Grand Egyptian Museum (GEM) to be between October and February.
Eissa said, in press statements, that work is underway to finish the GEM, as well as the area surrounding the museum.
He added that once work is completed, the project will be presented to President Abdel Fattah al-Sisi to set the date for the official opening.
Constructed on approximately 500,000 square meters, the new GEM is located nearby the Giza Pyramids and will house the world's largest antiquities collection belonging to a single culture's heritage.
The GEM is set to showcase 5,000 relics from Tutankhamun's collection as well — including 2,000 artifacts displayed for the first time.
The museum includes huge exhibition halls, and is distinguished by its proximity to the Giza pyramids area and the New Administrative Capital, which makes it a gateway to Egypt's past, present and future.
It is expected to attract about five million tourists.