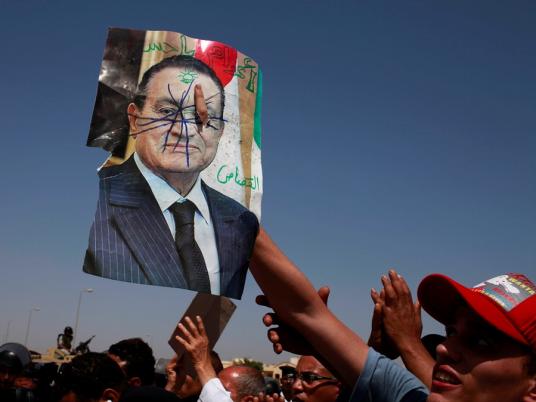 The retrial of former President Hosni Mubarak after he appealed against a life sentence began on Saturday in Cairo and was immediately adjourned as the judge recused himself amid chaotic scenes.
Mostafa Hassan Abdallah recused himself after a hearing that lasted just seconds, sending the case back to the Court of Appeal, which will then refer it to a new court.
As the judge filed out of the courtroom, there was uproar with people shouting and waving their arms.
Civil society lawyers attending the trial chanted: "The people want the execution of the president."
Last October, the very same judge had acquitted the defendants in the infamous "Battle of the Camels" trial, who were accused of sending men on camels and horses to break up a protest during the 2011 uprising that toppled Mubarak.
Earlier on Saturday, television footage showed Mubarak, dressed in white and wearing sunglasses, wheeled out of an ambulance on a stretcher and taken into the capital's Police Academy in a suburb of the capital for the hearing.
Inside the courtroom, he was seen sitting up, smiling and waving from inside a barred cage, although it was not clear if he was greeting anyone in particular.
In the cage with him were his two sons, Gamal and Alaa, and his former security chief Habib al-Adly, who were due to face retrial.
Earlier, a handful of Mubarak supporters outside the courthouse held up posters of their former leader, but were outnumbered by security officers.
Verbal altercations also broke out between a group of Mubarak supporters and a group comprised of those injured and families of those killed during the 2011 uprising.
Dozens of Central Security Forces personnel rushed to the scene and separated the two sides. The revolution injured and families of the martyrs chanted slogans demanding Mubarak and Adly's execution, while his supporters demanded his release.
Gamal and Alaa also faced retrial on corruption charges. Another defendant, business tycoon Hussein Salem, was to be tried in absentia.
Mubarak, who turns 85 in May, has suffered several health scares and MENA even reported him clinically dead at one point as he slipped into a coma.
In January, the Court of Cassation, ordered a retrial for Mubarak after accepting an appeal against his life sentence, citing procedural failings.
Adly had also been sentenced to life for involvement in the deaths of protesters, but controversially his security chiefs were acquitted, sparking widespread anger and protests after last June's verdict.
President Mohamed Morsy, who won elections that same month on the Muslim Brotherhood's ticket, had pledged new trials for former regime officials including Mubarak.