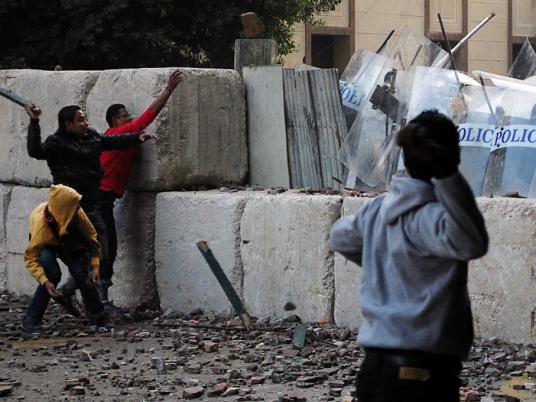 Nearly a year since Hosni Mubarak's resignation, the phrase "18 Days in Egypt" has become very familiar, with some variation of it serving as the title of maybe a dozen small documentary film projects. But "18 Days in Egypt," despite its common name, is something different: an innovative social media platform which sets out to provide a flexible means of collecting and cataloguing ongoing documentation of revolutionary protest in Egypt.
The generic name points to the generic beginnings of what has become a rather unique venture. On 11 February 2011, software developer Yasmin Elayat and video journalist Jigar Mehta decided to put together a "crowd-sourced documentary film" which would harness the myriad media produced over the course of the 18 days to tell the story of the 25 January revolution. Over months of development, what started as a film eventually became a web platform that could prove to be an essential tool for archiving, as well as diffusing, media across the internet.
Mehta and Elayat teamed with Emerge Technologies, an Egypt-based software development company, and the platform that developed became something with many more potential applications than simply providing a repository for documentation of the 18 days, or even of the revolution more generally. The site acts ideally as a place where users can link together tweets, images, videos and Facebook posts stemming from a common event or theme, and tagging them by location and date so that they begin to coalesce into a story. The program they developed, which they eventually named GroupStre.am, is meant to provide some logic and organization to the otherwise untamable internet, but it is also meant to facilitate the telling of stories.
As anyone who follows Twitter closely knows, there are times when its fast-moving commentary can be nothing short of riveting — particularly from the volatile place that is Egypt today. Elayat hopes that the GroupStre.am technology will bring out the storyteller within the tweeting citizen (or professional) journalist, so that all of that raw material can be reconstructed into the real-time narrative that it is.
Groupstre.am is still a work in progress, but for "18 Days in Egypt" the GroupStre.am technology is applied specifically to content related to Egypt and the ongoing revolution. The platform is tailored to recording and reacting to events here. It launched officially in public beta on 19 January, and is now busily absorbing material.
The platform is simple, and the method of creating media collections (called "streams") is straightforward. Users can log in through a service they already use, like Google or Facebook. Information is organized by date and place, and once these are specified, users are free to add in photographs from Flickr, videos from YouTube, tweets and Facebook updates; add a title, description and new panels of textual annotation; and begin to assemble a stream. They can invite Facebook friends, Google contacts and Twitter followers to join in the stream and add their own media.
The program is targeted at those most active on social networking platforms, who are producing a wide range of media and might be looking for a place to bring it all together.
"Our target users are all of us … in Egypt who are already posting and sharing about these historical events that we are living through and experiencing together via Facebook, Twitter or whatever other media or service we prefer," says Elayat.
The timing of the 19 January launch a few days before the anniversary of the start of the revolution was, of course, not a coincidence.
"We wanted to launch by the one year anniversary because we believe people will be more reflective at this point in time than any other this past year," Elayat says.
But amid ongoing unrest, the media that has accumulated on the platform so far has been centered as much on reporting current events as on reflection. Recent streams include collections of media pertaining to the marches and violence in response to the violence at a football match in Port Said on 2 February, and commentary about the ultras, as the cadres of devoted football fans are known.
This responsiveness speaks to the platform's ability to contribute to the compendium of internet news peddlers by facilitating citizen journalism, providing a counter-narrative to mainstream and state-funded media, and simply compiling material relevant to current events that can be difficult to uncover in a Google search.
"I think any independent media distribution or content platform will help activists in Egypt. The main struggle has been about the message and who controls it," says Elayat.
But of course, it takes time for dreams to become reality. As it exists now, the streams on "18 Days in Egypt" are a bit clunky to navigate, static to view, and composed mostly of images and text, and occasionally tweets. Investigating the site shows that it takes a little more attention and time to assemble a dynamic and informative collection of media than simply tagging a few YouTube videos and adding a couple of comments. The streams sometimes come across as glorified slideshow presentations. But the "18 Days in Egypt" team is busy ironing out the kinks (including the fact that at the moment, the site is not searchable) and expanding the platform's capabilities.
Elayat adds, "The most obvious next features we're working on are the different ways to sort through the explore page, allowing you to filter and search. But we have a lot of other features we are building, and we want to work closely with the community to understand what features are missing or what they would prefer to see next."
Though the "18 Days in Egypt" slideshows might not be the most dynamic mode of experiencing media, they are well-organized, and the small base of current users has been conscientiously assembling material covering current events, creating a comprehensible, if not comprehensive, archive.
If "18 Days in Egypt" catches on, comprehensiveness will surely come. And Elayat is optimistic: "We believe '18 Days in Egypt' will naturally spread virally … when there is a need to document some huge events and share it with others."
And if recent days, weeks and months in Egypt are any indication of the future, there is likely to be no shortage of huge events — or people seeking to document them — any time soon.