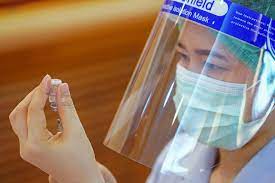 A French company announced that the results of a preliminary laboratory study on the Valneva vaccine have proven its effectiveness in neutralizing the Omicron variant.
The French company Valneva SE on Tuesday said that samples from 30 participants were used in the semi-experimental stage, which succeeded in creating antibodies to the original virus strain and the delta mutant by (100 percent), while 26 samples produced antibodies to Omicron by 87 percent.
The average neutralization for the original and delta virus strain was 2.7 times, and for omicron it was 16.7 times.
The Chief Medical Officer of Valneva Juan Carlos Jaramillo, said: "We are extremely pleased with these results, which confirm the potential for broad-spectrum protection of our inactivated, adjuvanted whole virus vaccine and its ability to address currently circulating variants of concern."
"We continue to believe that VLA2001 could be an important component of the fight against COVID-19, and Valneva remains fully committed to bringing VLA2001 to people who need it as soon as we can," he added.
Edited translation from Al-Masry Al-Youm