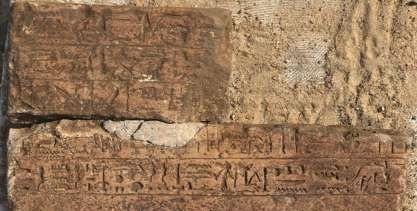 Two limestone formations in the northern part of the Ra'a monastery were uncovered by the Ein Shams Egyptian excavation team, operating in the Mataryia area.
The two formations have carvings that prove they were part of a structure built by Amenmut – Ramses II's renowned architect – according to the excavation team's head, Mamdouh al-Damaty.
Al-Damaty added that Amenmut was responsible for the northern part of Ramses II's statue, which lies in the same place the two stone formations were found.
A limestone wall was also discovered with an entrance in its middle, as well as limestone flooring. Al-Damaty explained the wall was used to separate two long corridors, which existed behind the statue.
None of the corridor's architectural features seem to have survived.
Still, the discovery revealed a substantial amount of information about the monastery, Al-Damaty continued, and further excavations regarding Amenmut's work will resume in March and April of 2019.
Egypt has achieved great feats in the field of archaeology, in an attempt to revive its tourism, which received a hit following the downing of a Russian jet in 2015.
These efforts include the opening the Grand Egyptian Museum (GEM), set to be the largest in the world.
In September, the Egyptian Ministry of Antiquities also announced the discovery of a massive building, thought to be a residential block from the ancient Egyptian capital of Memphis, in Mit Rahina, 20 kilometers south of Giza.
That same month, two sandstone paintings were also discovered in Kom Ombo, Aswan. The first belonged to King Seti I of the 19th dynasty. The second is currently undergoing restoration.