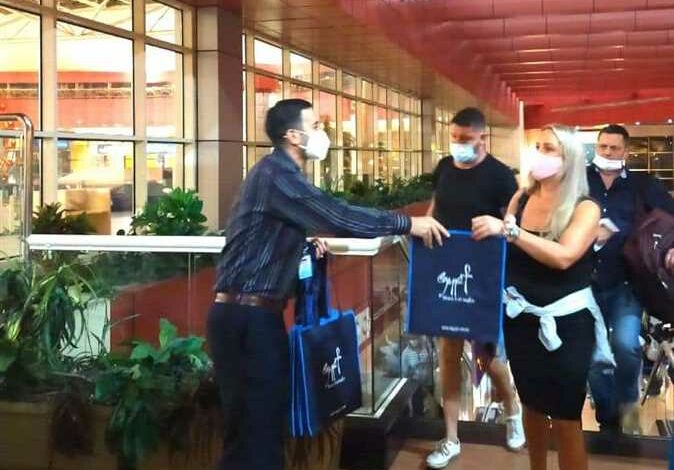 Requirements and controls for entering Egypt will be amended through quarantine departments at airports, seaports, and land crossings starting Saturday, Minister of Higher Education and Scientific Research and acting Minister of Health and Population, Khaled Abdel Ghaffar, announced.
The step comes in light of the developments in the epidemiological situation of the coronavirus globally, he added.
The application of the new procedures will be carried out from Saturday, January 22, official spokesperson for the Ministry of Health and Population, Hossam Abdel Ghaffar, explained, pointing out that these procedures stipulated that those coming to the country, whether Egyptians or non-Egyptians, should obtain any of the coronavirus vaccines, approved by the World Health Organization or the Egyptian Drug Authority.
Abdel Ghaffar added that 14 days should have passed since vaccination with the second dose, for two-dose vaccines, or at least 14 days of vaccination with the vaccines scheduled for a single dose, before reaching Egyptian territory.
The traveler has to carry a certificate stating that the vaccine has been received, or to carry a certificate stating that they tested negative for coronavirus through any of the tests approved by the Ministry of Health and Population (PCR- Antigen Rapid Test- ID NOW), 72 hours before reaching the Egyptian ports, with the exception of children under 12 years old, Abdel Ghaffar said.
If the traveler tests positive in an Antigen test is that they will self-isolate for five days in the residence hotel, and a PCR test will be conducted on the sixth day. If the result of the PCR is negative, they are allowed to end the isolation, but if the result is positive, the isolation continues for another five days, then the isolation is ended without the need for another examination, he said.
Abdel Ghaffar stated that the ID NOW COVID-19 test has been suspended for people coming from the countries of South Africa, Botswana, Mozambique, Namibia, Lesotho, Zimbabwe, and Eswatini.
Head of the Preventive Medicine Sector at the Ministry of Health Amr Kandil said that in the event that the vaccination certificate carried by the traveler does not conform to the established controls, an Antigen Rapid Test will be conducted on them. If they test positive, an ID NOW test will be conducted to confirm the Antigen test result.