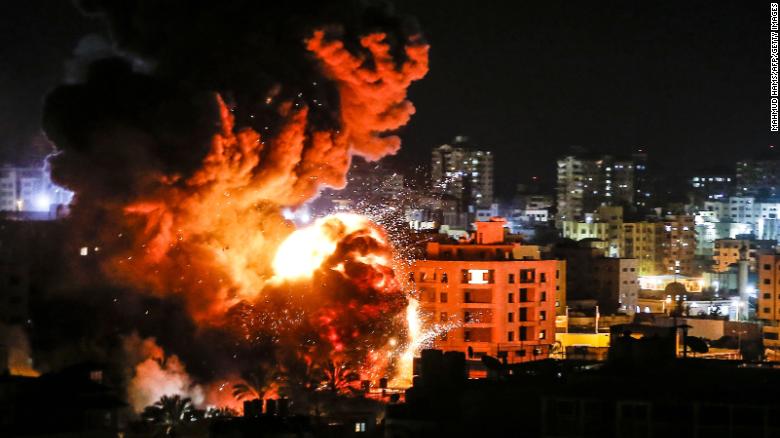 Jerusalem (CNN)Israeli Prime Minister Benjamin Netanyahu said he is "prepared to do a lot more" after overnight Israeli strikes hit Hamas targets in Gaza, but by sunset on Tuesday an uneasy calm seemed to be holding, following the sharpest escalation in violence since the beginning of the year.
The militant Hamas group — which Israel blamed for triggering the latest round of hostilities by firing a rocket that hit a house north of Tel Aviv in the early hours of Monday morning — first announced that a ceasefire had been agreed late Monday, but renewed rocket fire from Gaza into Israel, and Israeli airstrikes, continued into the early hours of Tuesday morning.
Netanyahu addressed a meeting of the American Israeli Public Affairs Committee (AIPAC), a pro-Israel lobbying group, in Washington, DC via remote link from Israel. The Prime Minister said his country had "responded with great force, on a scale not seen since [the war between Israel and Hamas in] 2014" in response to the rocket.
"We are prepared to do a lot more, to do what is necessary to defend our people and to defend our state," Netanyahu said, in an apparent warning to Hamas of the possible consequences of further rocket launches.
Gaza militants fired more than 
60 rockets into Israel,
 while the Israel Defense Forces (IDF) carried out dozens of airstrikes on targets in Gaza, IDF Spokeswoman Mika Lipshitz told CNN.
The numbers are modest compared to previous escalations.
In November, during one of the most intense rounds of fighting in more than four years, Gaza militants launched more than 400 rockets into Israel in 48 hours, while Israel attacked more than 150 targets in Gaza.
But the high-value targets Israel hit overnight marked a sharper beginning to this round of fighting, which began when a rocket fired from Gaza landed on a home near Tel Aviv, in central Israel, early Monday morning, wounding seven people. It is the farthest a rocket has been fired into Israel since the end of the 2014 war.
Shortly before sundown on Monday, Israel says they carried out airstrikes against major Hamas buildings and headquarters, including the office of Hamas leader Ismail Haniyeh, marking the first time since the 2012 war that Israel struck his office. The strikes wounded seven in Gaza, according to the Palestinian Ministry of Health.
Rocket sirens were heard Monday night along the Israel-Gaza border, indicating further incoming rocket fire. There were no reports of casualties from the rockets, despite one landing on a home in Sderot, an Israeli town close to the border that has absorbed frequent rocket and mortar strikes.
No one has claimed responsibility for the rocket attack near Tel Aviv earlier Monday. A senior Hamas official told CNN that the militant group was not currently interested in firing rockets into Israel and did not want to risk a conflict with Israel at this time, though the official did not directly deny that Hamas was behind the rocket attack.
The official added that Hamas is interested in securing a long-term ceasefire agreement for Gaza, referring to recent efforts led by Egypt and the United Nations to secure a new understanding between Israel and Hamas aimed at bringing calm to Gaza.
Such an understanding could ease Israel's blockade on Gaza, which imposes severe restrictions on the ability of Gazans to move in and out of the coastal strip, as well as exerting control over the entry of goods into the territory.
Israel has closed the Erez and Kerem Shalom crossings between Israel and Gaza. It has also reduced the size of the area in which Gazan fishermen are permitted to fish.
The Monday incident comes less than two weeks after two rockets were fired at Tel Aviv, the first time rockets had been fired at central Israel in almost five years. The IDF assessment was that the rockets — which caused no damage — were accidentally launched by low-level Hamas operatives, local media reported.
Israel responded to that attack with airstrikes on about 100 militant targets in Gaza, including an underground rocket factory, a training facility and a logistics headquarters.
Monday's developments coincided with
 Netanyahu's visit to Washington
, during which US President Donald Trump signed a proclamation formally recognizing the contested Golan Heights — considered Israeli-occupied territory by the international community — as part of the state of Israel.
Netanyahu announced he was cutting short his trip in light of the Gaza escalation and arrived back in Israel early Tuesday afternoon.
By Oren Liebermann and Andrew Carey, CNN