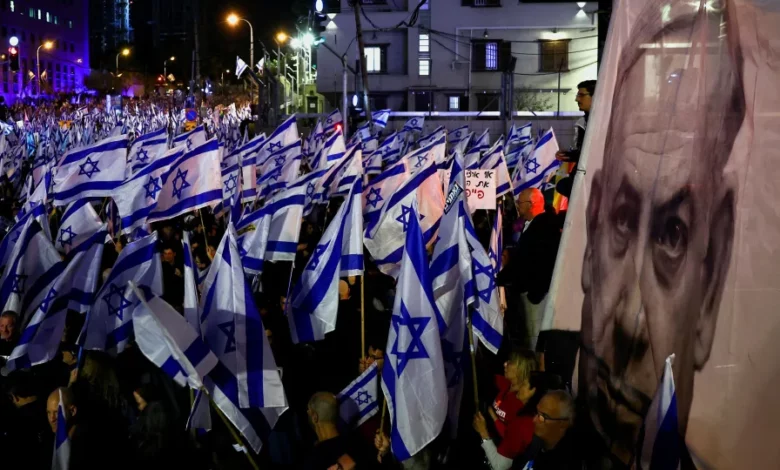 Jerusalem
CNN
 —  The government of Israeli Prime Minister
Benjamin Netanyahu
announced a change Monday to a key part of its controversial plans to overhaul the country's judicial system, marking its first climbdown in the face of
massive public protests
and international pressure, including from US President Joe Biden.
Opposition leaders inside and outside the legislature immediately rejected the proposed changes as insufficient.
The concession would give Israeli governments less power to select new judges – but still more power than it has now.
The lawmaker leading the overhaul process, Simcha Rothman, announced the change to government plans, and also said parliament would delay passage of other elements of the plan until after the Knesset's Passover holiday in April.
Supporters of the government plans often cite the selection of judges as a key reason changes are necessary – saying the current system where judges have a hand in picking future judges is insular, elitist and undemocratic.
Judges are currently selected by a committee consisting of politicians, judges and legal experts.
The original bill to change how judges are selected would have established a selection committee where coalition-appointed members would have a clear majority. The new plan reduces the power of the coalition, giving them a one-seat majority of appointed spots on the judge selection committee.
In another concession, it says that once two supreme court judges have been appointed by the committee, further judges can only be selected by a supermajority of the committee.
The government aims to pass the judicial selection bill before the Passover holiday begins April 5, while much of the rest of the reform package will now not be voted on until the next Knesset session begins at the end of April.
Other elements of the proposed reform include an override clause, where the Knesset will have the power to overturn Supreme Court decisions, as well as a bill that would make it more difficult for courts to declare a sitting prime minister "unfit for office."
"The heads of the coalition parties call on the opposition to take advantage of the month-long recess period, during which the legislative procedures in the Knesset cannot be held, in order to hold real negotiations in order to reach an understanding regarding the articles of legislation that will be submitted for approval after the recess," the coalition said in a statement. "We extend a hand to everyone who really cares about the unity of the people and the desire to reach an agreed settlement."
For months now, hundreds of thousands of Israelis have regularly taken to the streets to protest the overhaul, saying it will damage Israeli democracy. They've been joined by senior figures in Israel's security, high-tech, financial and academic fields.
Leaders of Israel's allies, including the United States and Germany, have also expressed concern over the overhaul, calling for "consensus" to be reached on reforms instead of the government imposing unilateral measures.
Opposition leader and former Prime Minister Yair Lapid dismissed the changes, calling it "a blueprint for a hostile political takeover of the justice system. This is not a committee to select judges – this is a committee to select associates, and this is exactly what they planned from day one."
In a statement, organizers of the protest movement said, "This is not a softening, but a declaration of war by the Israeli government on its citizens and on Israeli democracy. The legislation they are trying to pass is the first chapter in turning Israel into a dictatorship, which will bring in judges from the government – judges who judge, like in Hungary and Russia, who will be chosen by the government of the destruction of the house."