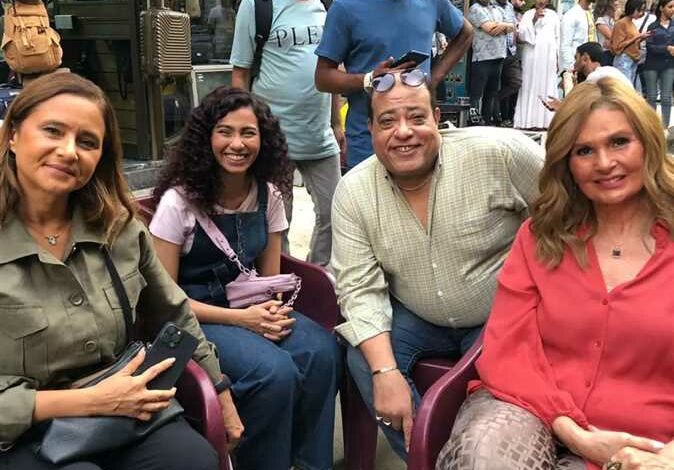 The film star actresses  Yousra and Nelly Karim continue filming their scenes in their new series Rose and Laila.
Filmed on the streets of the Egyptian capital, with the participation of actor Reda Idris, Saudi actress Raghad al-Faisal.
A large number of passers-by gathered to watch the scene and take photos with the actors.
The series consists of 10 episodes, written by British screenwriter Cris Cole, of Mad Dogs, Ana and Pelican Blood, and directed by British Adrian Shergold.
The events of the series revolve within a framework of black comedy and a context full of action, suspense and adventure, as the events revolve around two independent female investigators who are hired to uncover a major bank fraud that is being planned and plotted in Egypt.
During the events of the series, the two detectives – who lack the required professional competence – find themselves at the center of confrontations with mysterious characters that put their lives at risk.
They drift through paths different from the path of the investigation, before the threads later return to intertwine the closeness of Rose and Laila towards solving the mystery and revealing the circumstances of the case.
The work will be shown on "Shahid VIP" in the last quarter of the current year 2022, and comes within 10 episodes, each of which extends over about an hour.