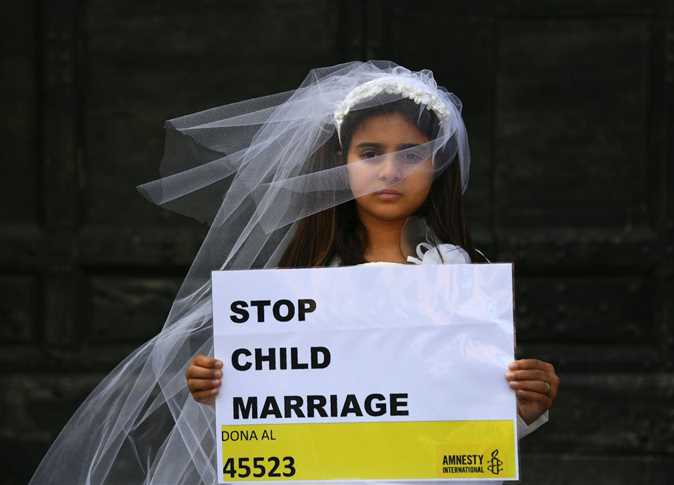 The National Council for Childhood and Motherhood (NCCM) has successfully halted a marriage attempt between two minors in a village at al-Minshah city in Sohag governorate, Upper Egypt.
The council's Child Helpline 16000 received an urgent report stating that the father of a 15-year-old girl intended to marry her to a 17-year-old boy and complete the wedding on the same day.
The NCCM's Secretary-General Sahar al-Sonbaty said that the council took every measure to stop the marriage upon receiving the report, including referring the incident to the Governorate Protection Committee for urgent intervention and to verify the incident.
Once the incident's legitimacy was confirmed, a report was then filed with the Public Prosecution Office which ordered the two minors and their parents to sign a pledge not to marry their children before reaching the legal age.
Sonbaty added that the young groom had previously married another minor a year ago and had borne a child with her, but did not issue a birth certificate for the baby. After kicking the mother out, the groom then took the child in.
She said that the infant and their mother will be given support, and a birth certificate will be issued for the baby.
Sonbaty explained that in cases like these, the two children will be monitored periodically to ensure that the marriage is not consummated later.
She added that support and advice will be given to their families to ensure their protection and safety.
The NCCM takes every measure it can to stop exposing children to danger and eliminate violence against them, including child marriage, she said, stressing that the council will forever stand against harmful practices against girls.
She hailed the speedy response of the Attorney General and the Child Protection Office to the council's report and their issuing of a decision that falls in line with the girl's best interest.
Sonbaty also thanked members of the Child Protection Committees across the country and specialists from partner organizations for doing everything they can to protect and support children.
Edited translations from Al-Masry Al-Youm