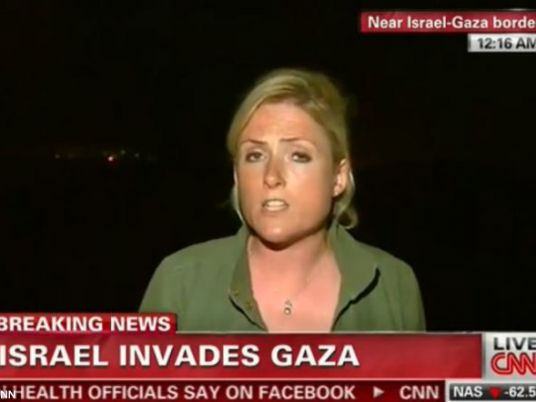 NBC News is sending veteran war correspondent Ayman Mohyeldin back to Gaza this weekend, the US network said in a statement Friday evening.
The decision came after news of his pull-out triggered a wave of heavy criticism against what critics say is the network's biased coverage. NBC has yet to offer a justification for either pulling him from Gaza or sending him back.
The Egyptian-American reporter will be reinstated to cover the ongoing Israeli ground operations in Gaza after he was removed on Wednesday following his live reporting of the four Palestinian boys who were killed by Israeli shells on Gazan shore on 16 July.
Some commenters speculated that NBC might have felt that Mohyeldin showed too much sympathy in his social media comments. At one point he wrote, "Just spent 45 min see family relative after relative learn that their children have been killed in #Israeli shelling of #Gaza port #horror."
Following NBC's move, CNN has now reassigned its correspondent Diana Magnay who was covering the Israeli rockets dropped on Gaza from Israel after she tweeted that Israelis who were cheering the bombing of Gaza were "scum."
"Israelis on hill above Sderot cheer as bombs land on #gaza; threaten to 'destroy our car if I say a word wrong'. Scum," correspondent Diana Magnay tweeted Thursday
She quickly deleted the tweet, but removing it came after it was retweeted at least 200 times.
Magnay appeared upset on Thursday night as she reported live from a hill in southern Israel where a group of Israelis had gathered to watch the beginning of the ground invasion of the Gaza Strip. As Magnay described the missiles flying through the sky behind her, the spectators could be heard cheering on the bombardment. "It is an astonishing, macabre and awful thing to watch this display of fire in the air," she told Wolf Blitzer before signing off.
While the circumstances surrounding Magnay and Mohyeldin's removals are slightly different, their situations have both aroused suspicions surrounding the restriction of freedom of speech in the US mainstream media for the service of the Israeli side in its ongoing war in Gaza.
Both reporters expressed on social media their personal views concerning the brutal aspect of the Israeli assault on Gaza and many civilians from the Palestinian side were unreasonably targeted. However such personal revelations could considered biased by US networks.
The decision by NBC News demonstrates the sensitivities of reporting potraying Israel in negative light in a country like the United States, where the
Pew Research Center
says a majority of the evangelical Christian population supports Israel for biblical reasons, fuelling speculation that pro-Israeli groups on the network could have been behind Mohyeldin's removal, given his focus on human calamity as an implication of the Israeli assault in Hamas-controlled Gaza.
Mohyeldin was born in Cairo to an Egyptian father, and a Palestinian mother. He grew up in Egypt, and the United States. His extraordinary skills led him to cover three Israeli wars in Gaza since 2009, in addition to extensive experience in other hot spots in Syria, Egypt, Libya and Iraq when he was working for Al-Jazeera English and CNN.
Mohyeldin's wide range of contacts, extensive experience and fluency in Arabic gave him precedence in shining the light on the civilians who pay the price of the Israeli-Hamas war, such aspect seems underreported in the US mainstream media.
As a reporter and an eyewitness of the children killings, Mohyeldin was the first to tweet the death of four Palestinian kids who were playing soccer on Gazan beach, Mohyeldin was filming the incident and hurried to the kids mother to see her agony when she heard the news of her sons deaths.
The killings were witnessed by many in the international press who reported that there was no evidence of military targets or activities in the area. Although Mohyeldin was a live witness to the event, NBC correspondent Richard Engel reported the story from Tel Aviv.
The site Mondoweiss, a pro-Palestinian news website speculated that Mohyeldin's seemingly pro-Palestinian perspective and his criticism for the US policy towards the conflict on social media is probably the cause of his removal from the region.
Mohyeldin's tweet read "The US State Dept says that ultimately Hamas is responsible for Israel killing of 4 boys in Gaza shelling by not agreeing to a ceasefire," tweeted on 16 June 2014. Mohyeldin's tweet came in response to the US State Department spokeswoman's pro-Israeli statements when she was asked about the killings, essentially absolving Israel.
Another tweet read "4 Palestinian kids killed in a single Israeli airstrike. Minutes before they were killed by our hotel, I was kicking a ball with them in Gaza"
He also posted on Facebook a more explicitly critical view, which he also removed: "The US State Department Spokesperson just said that Hamas is ultimately responsible for Israel shelling and killing 4 boys who were cousins aged 9-11 because Hamas did not accept the ceasefire. Discuss among yourself," the post read.
Mondoweiss highlighted this Facebook post, which Moyheldin later deleted, with some speculations that he was pressured to delete it.
In a counter pressure on the network, several journalists and foreign correspondents launched the Twitter hashtag "#letAymanreport" to demand his return to work. One tweet said "Ayman was telling the truth in his report, but the channel wanted to broadcast its own lies," another said "the truth is lost in this war," while more others said "withdrawing Ayman was a cowardly and unprofessional act by channel," Al-Masry Al-Youm reported.
In a Twitter posting on Friday evening Mohyeldin wrote: "Thanks for all the support. I'm returning to #Gaza to report. Proud of NBC's continued commitment to cover the #Palestinian side of the story."
Correction: A source from the Pew Research Center about evangelical Christians was added after publishing.