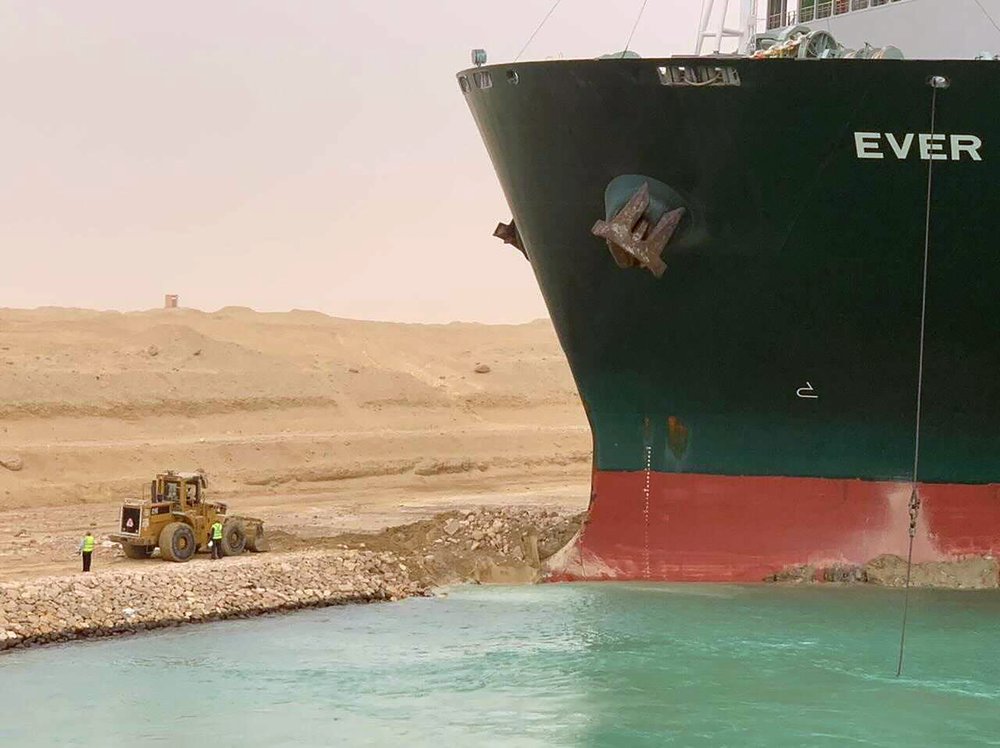 Lieutenant General Osama Rabie, Chairman of the Suez Canal Authority, announced that the navigation traffic in the Suez Canal will be suspended temporarily on Thursday until the stranded container ship EVER GIVEN is afloat.
He explained, in an official statement, that the canal witnessed on Wednesday the passing of 13 ships from Port Said, but these ships must wait in the Great Lakes region until shipping traffic is fully resumed, he added.
Boats "The Tenth of Ramadan", "Long Live Egypt 1", and "Long Live Egypt 2" have joined efforts to pull the sand around the grounded ship, along with eight other tug boats that have been working since the ship grounded.
The Japanese company, Choi Kisen, which own the ship stuck in the canal apologized on Thursday morning, saying that it is working to resolve the situation. It added that the ship's stranding did not result in any injuries or oil leakage.
"We sincerely apologize for causing a great deal of anxiety," the company said in a statement issued in English more than 24 hours after the ship ran aground.
The company stated that the vessel is fully loaded with consumer goods destined for European markets in 20,000 shipping containers.
The specialized company currently involved in the attempt to free the ship, likened the ordeal to attempting to move a huge whale off shore. The ship has so far resisted attempts to free it from the sandy edge of the narrow section of the Suez Canal, the statement said.
Yesterday, reports stated that 8 tugboats, along with excavators, worked to re-float the giant container carrier, whose length is 400 meters and width is 59 meters.
Edited translation from Al-Masry Al-Youm
IMAGE: In this photo released by the Suez Canal Authority, a cargo ship, named the Ever Given, sits with its bow stuck into the wall Wednesday, March 24, 2021, after it become wedged across Egypt's Suez Canal and blocked all traffic in the vital waterway. An Egyptian official warned Wednesday it could take at least two days to clear the ship. (Suez Canal Authority via AP)