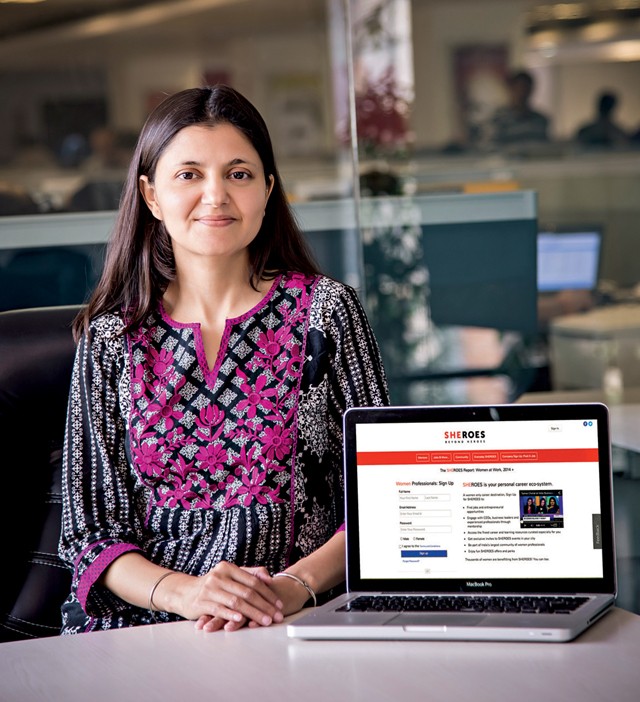 by Suman Bajpai for Woman's Era
"It's a woman's world," said Sairee Chahal. She is the founder and CEO of SHEROES, a digital platform that works towards creating and enhancing flexible work options for women from all walks of life.
Chahal has revolutionized the job scene for women with this venture (formerly called Fleximoms), based in Noida, a suburban city of Delhi. She believes that a career is a maze rather than a ladder, and her mission is to help millions of women navigate it through all stages of their lives.
She is a lifelong entrepreneur who started her professional career while in college before co-founding her first startup which was the world's first newspaper for Mariners in 1999, with operations in India, Philippines and Cyprus. Recognised globally for her achievements, Chahal's honors include winning the Devi Award, Femina Achievers Award, Cartier Award, Editor's Choice for L'Oreal Femina Women's Award and Most Powerful Women in Indian Business. Frustrated by the gender disparity in India, she created SHEROES in 2013.
"We have designed a support ecosystem that women can leverage to grow in their careers, relationships and other aspects of their lives," she said. So far, the digital platform has directly helped one million women with their career paths and work-life balance, and it aims to reach 100 million more in the next five years.
A member of the SHEROES community can join as a job seeker, go on to interact with a mentor, identify her course of action, use the career resources to acquire an additional skill set and explore job possibilities. Established professionals can share their experiences, offer peer-to-peer mentor support and even post job offers.
The SHEROES app is gaining popularity and offers unique features such as a dedicated helpline for one-to-one counseling, operated by a team of counselors and coaches who speak to women and offer them support, advice and resources.
India has made international headlines these past few years for cases of extreme sexual violence and discrimination. True to form SHEROES hasn't shied away from doing its part to tackle such issues. "Through our communities and helpline we got a deeper understanding of the depth of harassment that women experience in the workplace. Our product SHE is a comprehensive prevention-based approach offered to businesses, comprising continuous trainings, compliance measures and a corporate helpline, covering all aspects of work – remote work, offsites, online communication and everyday work culture. Our approach is to look at influencing mindsets in a proactive way as opposed to handling cases ones they have escalated greatly," shared the founder. 
"Initially it was difficult for me to make a place for myself as a woman," said Chahal, who is also a mother. "Women's products and services have fallen into a 'pink' bucket. Persuading stakeholders to expand their thinking around this space in a way that it deeply benefits women was a challenge. But today, the tables have turned, with more businesses, thought leaders, and women themselves embracing this shift."
As for other women considering starting their own projects, she offered this advice: "Start a business because that's what who you are and because you want to make a difference. Don't start a business to make money, because money could come much later than with a job. Start it for the right reason – to solve a problem, build a product, build a solution. And do something that you are passionate about."
Photo credit: SHEROES